26 November 2009 Edition
Volunteer Eddie Carmody remembered in Ballylongford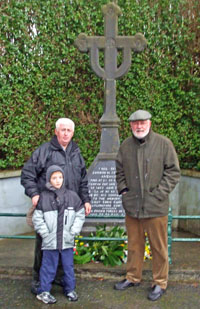 Bhí slua mór i mBaile Átha Longfoirt i gCiarraí Thuaidh inné ag comóradh bliantiuil Eddie Carmody.  Ba é Teachta Dála Martin Ferris a thug an óráid agus dúirt sé go raibh sé mar phríbhléid aige aitheasc a thabhairt in onóir Eddie Carmody a fuair bás ar son na poblachta.
Despite inclement weather conditions, a crowd of in excess of 60 Republicans gathered in the North Kerry village of Ballylongford yesterday afternoon to pay tribute to a brave local republican, Eddie Carmody, who was murdered by Black and Tan Forces during the War of Independence.  Wreaths were lain by Cllr. Tom Barry and Steven O'Callaghan.  A minute's silence was observed to remember all those who had given their lives in the cause of Irish freedom.  The Ballad of Eddie Carmody was performed by John Martin O'Sullivan.  The main oration was delivered by Martin Ferris who paid tribute to the memory of Eddie Carmody who had met such a terrible death at the hands of Crown forces. He urged those in attendance to hold true to the ideals of Eddie Carmody, the ideals of freedom, democracy and parity of esteem for all.  
The commemoration ended with Amhrán na bhFian which was performed by Seán McCarron.