26 November 2009 Edition
De Brún and Quinlivan welcome justice for Dell workers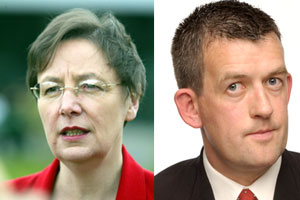 SINN FÉIN MEP Bairbre de Brún has welcomed the proposal before the European Parliament this week to support Dell workers but pointed out:
"It does not absolve Dell of their responsibility to the workers who have been made redundant in the pursuit of even greater profits."
Speaking in Strasbourg, she said:
"The decision to close the factory was unnecessary, as is shown by the fact that Dell is buying a competitor company – Perot Systems – for US$3.9 billion.
"The European Commission also has some hard questions to answer. Why did they approve €54.5 million funding for Dell to establish a new manufacturing plant in Poland? This amounts to state aid for sacking the workers in Limerick.
"EU policy has the effect of using public money to set worker against worker and country against country in a race to the bottom in terms of wages and conditions. If the profits are not big enough a company knows they will be subsidised to move to a more profitable location."
Limerick Sinn Féin Councillor Maurice Quinlivan added:
"This is a very important first step for workers and their families. The next step is for the Irish Government to do everything in its power to ensure Dell repays any grants they received and use the profits generated in Limerick over the years to provide fair compensation for the Dell workers."