29 October 2009 Edition
Miami Five's thanks to Irish supporters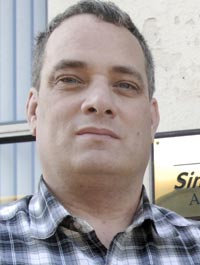 THE Free the Miami Five Campaign Ireland has thanked everyone who took part in this month's candlelit vigil outside the US Embassy in Dublin in support of Antonio Guerrero.
The protest was the culmination of a month of embassy protests around the world which had the effect of forcing the US prosecutor to seek an agreed settlement in the resentencing hearing for Antonio.
In the hearing, Antonio's life sentence was vacated and a life sentence reduced to 22 years was imposed.
Antonio's attorney, the venerable human rights lawyer, Leonard Weinglass, was complimentary of the efforts of the Miami Five's supporters around the world in an interview he gave to the media immediately after the hearing.  
"The Government itself acknowledged that the reason why it sought an agreement [with us] on the sentence was because of the world-wide support that this case has generated."
(You can see  the full interview with Len Weinglass on YouTube at http://www.youtube.com/watch?v=f7GYKl2irRQ

BREAKING THE SILENCE
Meanwhile, The Irish Times last week published a letter from senior Irish trade unionists and politicians (including Sinn Féin TD Aengus Ó Snodaigh) to correct errors in a report in the 'paper of record'
The campaign noted that the letter "has broken the silence on the case that 'the newspaper of record' has managed to maintain since 2002".
The Free the Miami Five Campaign Ireland, is supported by 49 TDs and senators, former President Mary Robinson and members of the Irish Congress of Trades Unions, SIPTU and UNITE.
The letter pointed out that it was "cold comfort" that Antonio Guerrero had his life sentence commuted to 22 years "for a crime he did not commit by the same judge who sentenced him wrongly in the first place".
It continued:
"The world is pained by the injustice inflicted on Mr Guerrero and his family by a court in Miami that convicted him, not of spying as you stated, but of 'conspiracy' to commit espionage. He did no such thing. Six generals of the US military testified to that effect in court but were not listened to.
"No evidence of espionage was presented to the court because none took place. The UN Human Rights Commission investigated the case and confirmed he and his four compatriots did not receive a fair trial. Amnesty International have said the same.
"Mr Guerrero is a published poet, an accomplished artist and a hero in his own country.
"He provides maths and literacy classes to prison inmates in the C-max prison he is forced to call home. If he is lucky, he may be permitted one visit from a relative this year. He is supported by well over 200 human rights advocacy groups around the world.
"We will continue to speak on his behalf because he is denied a voice to cry out against the injustice that has been inflicted upon him and his four compatriots.
"Mr Guerrero did nothing wrong and used no violence. He merely helped prevent US-based terrorist groups from attacking Cuba.
"That is enough to have the US set aside its constitution to have him silenced."
The letter is signed by Sinn Féin TD Aengus Ó Snodaigh, Fianna Fáil TD Chris Andrews, Labour TD Emmet Stagg, Independent TDs Maureen O'Sullivan and Finian McGrath, Independent Senator David Norris and Jack O'Connor (President of ICTU and SIPTU), Jimmy Kelly (UNITE), and Simon McGuinness (National Co-ordinator, Cuba Support Group Ireland).