29 October 2009 Edition
Donegal grants chaos will force students out of college, says Pearse Doherty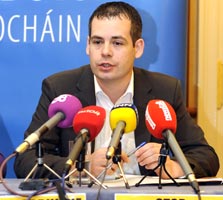 EDUCATION MINISTER Batt O'Keeffe's failure to help sort out the delays caused by Government cuts in County Donegal in processing student grants in time for the university term means many third-level students are unregistered and will be left without access to a host of college services until January, Sinn Féin Senator Pearse Doherty has told the Seanad.
This year has seen an unprecedented rise in applications for third-level maintenance grants but, because of understaffing in Donegal VEC and Donegal County Council, many of the students applying for grants will not receive them until January 2010. "This is a ludicrous situation," the Donegal senator said, "and one with massive consequences for students.
"Many have been unable to register and as a consequence will be unable to sit their mid-term examinations. They will not have been issued a student number and will be unable to access many essential facilities in the college.
"More worrying is the fact many students depend on this grant and without it have no alternative but to drop out of college altogether and join the rest of the country on the dole queues. This is causing real distress to students and families across the county and will ultimately have a negative effect on the economy."
EXTRA WORK, FEWER RESOURCES
Pearse Doherty said the facts are that the Higher Student Grant scheme has been "dumped" onto Donegal Council by the Department of Education without the resources required to deliver it.
"Donegal County Council will soon have lost over 280 staff members or approximately one in five of its workforce due to Government cutbacks. Yet they are expected to deliver more services on behalf of central government.
"There have been hundreds more student grant applications lodged with Donegal County Council and Donegal VEC this year than last. Both bodies are struggling to cope with the demand. Local authorities and student unions have repeatedly warned the Government and the Department of Education that they need to reform the grants system but these appeals have fallen on deaf ears."
The Sinn Féin senator said Batt O'Keeffe and the Fianna Fáil-led Government must take full responsibility for these delays and deploy emergency resources to ensure that no families or students miss out on their third-level education.