15 October 2009 Edition
THE JULIA CARNEY COLUMN
SDLP charity cases
Barack Obama was, bizarrely, awarded the Nobel Peace Prize this week. John O'Donoghue became the first Ceann Comhairle in the history of the Southern state to be forced to resign by the level of outrage at his betrayal of the public trust. But the big story, the real 'can you feel the ground tremble beneath you news', was that Margaret Ritchie has announced her candidacy for the leader of the Stoop Down Low Party (SDLP).
Flanked by Alex Attwood, and some people I've never heard of before but whom I'm reliably informed are SDLP MLAs, Margaret Ritchie set out her stall to take control of the most exciting political force in Ireland.
"I have a comprehensive plan for the renewal of the party and an exciting vision of the way ahead or the way forward," she told the world's media gathered en masse at Stormont to tell people from Rostrevor to Vladivostok what was happening.
"I will be setting out that vision shortly to the party membership of the SDLP and to the wider public thereafter."
I cannot wait. I am literally on the edge of my seat silently waiting, trembling with anticipation, to hear what this vision might be. Much like I'm told many people in the North are waiting for the Mortgage Rescue Plan she announced in February 2008.
As Fra McCann pointed out in the Assembly in March, "The latest figures showing mortgage possession were recently announced and showed an increase of 64%, with over 3,628 losing their homes."
I'm sure she's getting round to it Fra. No one who's facing losing their homes votes SDLP so you can hardly expect them to rush it.




But wait, there is more. Rumour is that Alasdair McDonnell, the most pompous man left in politics with Michael McDowell's retirement, may throw his not inconsiderable bulk into the ring. At the start of September, Alasdair gave us a flavour of what we might expect under a McDonnell leadership.
"Sinn Féin has willingly thrown itself into a squalid axis of self preservation that has pushed the North to the brink of a virtual dictatorship," he argued in one of the more coherent parts of a press statement that should be studied by ranters of the future
"A counteractive dual dictatorship which...fails to pay even the most cursory lip service to the framework of democracy."
Virtual dictatorship? And then by the next line it's a 'counteractive dual dictatorship'. It moved from virtual to existing kind of quickly there. And aren't there elections in the North, Al? You know, that thing every couple of years where the votes for the SDLP are added up and everyone else has more?
After Lisbon he accused Sinn Féin of hiding Gerry Adams from the media, which might have been why he was on RTÉ's Morning Ireland for the last Lisbon debate, or on national TV and radio. National Al, meaning for the whole country, not a snippet at the back of the South Belfast News. When you're a national politician Al, then we'll..well, not listen, but ignore you more openly.
The thing is, we're not dealing with serious people here. The SDLP is a tiny political party that exists in small pockets of Ireland. A suburb of Belfast, Derry City, Downpatrick and a couple of other little odds and ends. From a pool of talent that small is it any wonder that they are left with non-entities like Margaret Ritchie and apolitical careerist ranters like Alasdair McDonnell as potential leaders? These are people who watched Mark Durkan lead them to disaster after disaster and miss him. By SDLP standards, Ritchie and McDonnell are at the vanguard of their political and intellectual leadership.
On the same night Ritchie made her announcement SDLP Youth announced it would be holding a pub quiz. Their press release says "it's for a very good cause" and all proceeds are to go to charity. If ever there was a charity case...
Part of the SDLP's problem is that it doesn't attract the kind of exciting candidates with youth appeal that, say, the Ulster Unionist Party attracts.
"Freddie Mercury tribute artist Harry Hamilton is planning to launch himself on a new stage – in British (sic) politics," reported the Belfast Telegraph on Monday.
"The lead singer of Flash Harry, which has packed out top venues across Ireland as well as London's Royal Albert Hall, is hoping to wow a whole new audience by running for the Westminster elections on an Ulster Unionist ticket."
You don't really hear Ulster Unionist Party and think flamboyant, rock and roll, homosexuals do you? Still, I'd rather him than Alasadair McDonnell. At least with Flash Harry he's honest about being a unionist.

An Phoblacht Magazine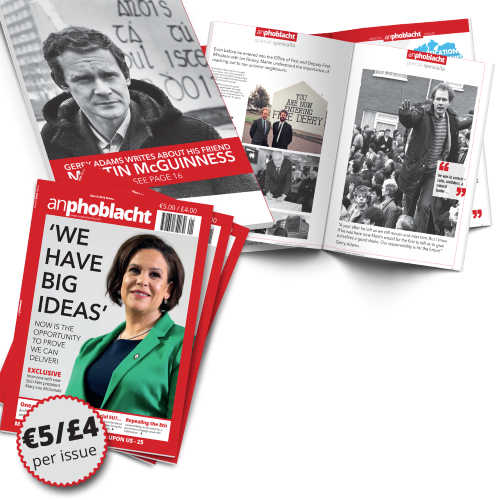 AN PHOBLACHT MAGAZINE:
The first edition of this new magazine will feature a 10 page special on the life and legacy of our leader Martin McGuinness to mark the first anniversary of his untimely passing.
It will include a personal reminiscence by Gerry Adams and contributions from the McGuinness family.
There will also be an exclusive interview with our new Uachtarán Mary Lou McDonald.
test