1 October 2009 Edition
Ireland needs media diversity not battling giants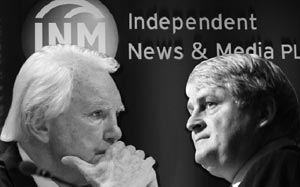 BY ROBBIE SMYTH
In a globalised world, who owns media, communication and information resources is a crucial issue. What we listen to, read and watch has never been more important. Regulating who controls these news media resources is vital.
Yet in Ireland the real significance of the ongoing battle between Independent News and Media's (INM) Tony O'Reilly and Communicorp's Denis O'Brien for control of the newspaper group has been largely ignored by the news media. The focus has been on reporting the financial minutiae and the personality clash rather than the big picture implications of who will control the media in 21st century Ireland.
Both Tony O'Reilly and Denis O'Brien have a long pedigree in collecting media titles and outlets, often forgoing short-term profits to amass what have become substantial communication empires.
In both cases these media conglomerates have been built with little interference from market regulators. This is because, especially in O'Reilly's case, the power of his newspaper allows him to see off any legislative control of their market growth.
In July 2007 Sinn Féin Dáil leader Caoimhghín Ó Caoláin challenged Taoiseach Bertie Ahern on his meeting with Tony O'Reilly before the General Election that year. After the meeting O'Reilly's newspapers swung behind Fianna Fáil, helping them to gain a third term in office. Ahern did not deny that the secret meeting had taken place and said that he meets members of the media from time to time but that "An Phoblacht has not sought a meeting"!
Dominant force
Tony O'Reilly's media odyssey began in 1973 when he bought into the ailing Independent Newspapers, building them not just as Ireland's dominant newspaper group but an international force too.
In Ireland the group now owns the Irish and Sunday Independent, the Sunday World, Evening Herald, Belfast Telegraph, Sunday Life, a 50% share in the Daily Star and the Star on Sunday as well as a 30% shareholding in the Sunday Tribune which the groups effectively funds and whose staff all now share offices in Dublin with the other Independent Newspapers.
The other prized assets in the group include high tech printing presses at City West in Dublin and ownership of Newspread who deliver not just the Independent papers daily to shops but have a 50% share in the newspaper and magazine sector across the 26-Counties. Easons are the other leading distributor.
In the Six Counties and Donegal another INM firm Wholesale Newspaper Services is a dominant force in paper and magazine distribution. INM also own 16 other regional newspapers. The 26-County assets in the group account for around 27% of total revenue.
INM has in recent years expanded into India and South Africa and has key holdings in Australia and New Zealand. However the acquisition trail by O'Reilly has not been without costs and major losses have been run up in some of the group's firms, principally the Independent titles in England.
In the first half of 2009 revenue across the group fell 14% to €608.8 million. The share price of the group has also fallen from a peak in 2007 and the company is now valued at just €200 million with debts of over €1.3 billion. The 26-County operating profit for the first six months of 2009 was €20.9 million.
RiveN with disputes
In recent months the INM board, which has three O'Brien representatives, has been riven with disputes on how to meet a €200 million bond debt. O'Brien has frustrated all attempts to refinance the debt, offering in recent weeks to up his own shareholding to 67% and effectively take over the company entirely.
This proposal was rejected by a board vote this week and the bondholders will now be offered a larger stake in the firm, with an EGM to be held later in the month on the proposed €150 million sale of some of the company's assets, principally a 42,000 site outdoor advertising network, largely based in sub-Saharan Africa.
The antipathy between Tony O'Reilly his son Gavin and O'Brien has been long standing. O'Brien's ESAT consortium pipped an O'Reilly led group for the second mobile phone licence in 1996.
The sale of ESAT to BT enriched O'Brien by over €300 million and allowed him to take the crucial steps to grow his Communicorp and Digicel firms to the international corporations they are today.
O'Brien's business decisions have been usually shrewd yet his drive to acquire a shareholding in INM has cost him hundreds of millions of Euro. Since 2006 O'Brien has spent over €500 million buying shares in the firm. He has a 26% share holding worth just €50 million at current share prices.
O'Brien owns 44 radio stations in nine states. In Ireland Communicorp owns or has significant shareholdings in Today FM, Newstalk, Dublin's 98FM, Spin 103.8, Spin South West. Revenues across the international group were €57 million in 2007 up 21% on 2006 and driven by acquisition.
Though Communicorp is a growing media group in Ireland and the personal shareholding Denis O'Brien has in Independent News and Media amount to significant media investments, they are dwarfed by the scale of his other communication sector businesses.
O'Brien's Digicel franchise is a mobile phone company spread across 31 markets in the Carribean, and Central and South America with a further 7 markets in the Pacific.
There has been a €2.58 billion investment by O'Brien is his Carribean operations since 2001. In the 12 months to the end of March 2008 the Digicel Group had revenues of $1.56 billion, and an operating profit of $240 million. Though making operating profits the firm has a substantial debt burden and had interest payments in 2008 of $296.4 million.
MEDIA EMPIRES
Tony O'Reilly and Denis O'Brien have built media empires out of profits made in Ireland. Independent News and Media's dominance in the newspaper market has gone virtually unchecked in Ireland while now O'Brien has been allowed build a massive radio group with little interference from the Broadcasting Commission of Ireland. They only stipulated that he would have to sell FM 104 when he bought it with Today FM in 2007.
The fact that O'Brien now owns a quarter of the largest newspaper group on the island has gone unchecked. In the United States the Federal Communications Commission disallowed until October 2008 the common ownership of a leading daily newspaper and radio station or TV station. Now there are waivers allowed in major media markets such as New York or LA, but these are disallowed in smaller markets similar to the size of the Irish one.
In 2008 BSkyB had to dilute its 17.5% shareholding in ITV yet in Ireland it seems that any media group, no matter how big, can buy up it rivals.
O'Brien has four radio stations, a role in four 26-County daily papers, and four Sunday editions with no regulation controlling further ownership. Independent News and Media have over 50% of the readership of daily newspapers through their four titles, and even greater market share through their Sunday papers, yet again there is no regulation on their control.
We don't know whether O'Reilly or O'Brien will win their latest spat. What is known is that the Irish media consumer will lose either way.
An Phoblacht Magazine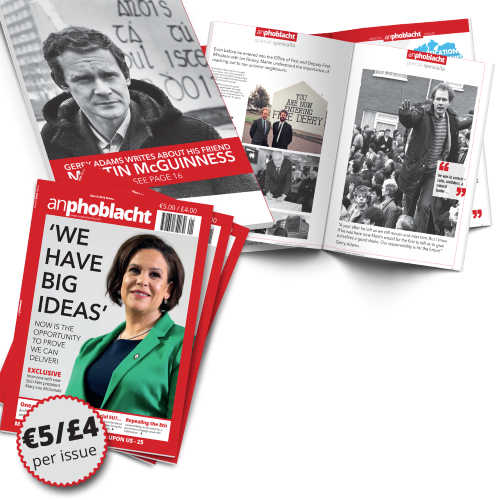 AN PHOBLACHT MAGAZINE:
The first edition of this new magazine will feature a 10 page special on the life and legacy of our leader Martin McGuinness to mark the first anniversary of his untimely passing.
It will include a personal reminiscence by Gerry Adams and contributions from the McGuinness family.
There will also be an exclusive interview with our new Uachtarán Mary Lou McDonald.
test