3 September 2009 Edition
International probe into plastic bullets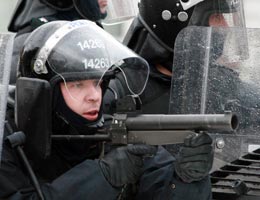 AN international human rights adviser is to investigate the circumstances in which up to four children were shot and injured by plastic bullets fired by the PSNI during disturbances in north Belfast.
The children were injured during riots following a controversial Orange Order parade in Ardoyne in July.
The United Nations Committee on the Rights of the Child has already called for the plastic bullet to be withdrawn. Campaigners believe that rights under the European legislation may also have been breached after the PSNI fired into a crowd, the vast majority of which were children.
Seventeen people, eight of them children, have been killed by plastic bullets, many more have suffered serious, life changing injuries.
In 2005, the British Government introduced a new plastic bullet somewhat disingenuously heralded as "safer". However, the new version of this lethal weapon had only been modified to render the danger of a breach discharge less likely to the officer firing the weapon, not the intended victim.