3 September 2009 Edition
'Yes' to Lisbon will see farming suffer same fate as fishing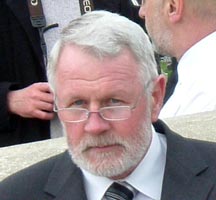 Ferris urges farmers to say 'No' to Lisbon
FARMERS have been urged by Sinn Féin's Martin Ferris to vote No to the Lisbon Treaty again next month because it is the same treaty they said No to before and it is still a bad deal for Ireland. Nothing has changed, he said.
"It was a bad deal for rural Ireland in 2008 and it remains a bad deal in 2009," Sinn Féin's Agriculture spokesperson reiterated.
Martin Ferris was speaking after Irish Farmers' Association leader Pádraig Walshe called for a 'Yes' vote in the re-run Lisbon Treaty referendum.
Ferris, a TD for Kerry North, said:
"During the last Lisbon referendum there were serious concerns raised by the farming community about the World Trade Organisation trade talks. Irish farmers and development NGOs are rightly concerned at the agenda being pursued by the then European Trade Commissioner Peter Mandelson,
"That trade agenda aggressively promotes free trade irrespective of the costs to European family farms and rural communities or the world's poorest communities and countries."

FREE TRADE OVER FAIR TRADE
Martin Ferris pointed out that Article 2 of the Lisbon Treaty gives the EU exclusive competence over commercial policy, including the negotiating of international trade agreements. He added that Article 188 contains new provisions that will considerably strengthen the Commission in its pursuit of free trade over fair trade. And he said that farmers need to be wary of voting Yes to Lisbon.
"If the Lisbon Treaty is passed, the EU Commission will have the power to initiate and conclude international trade agreements and, in all but the most exceptional circumstances, the Irish Government will no longer have a veto at the European Council. This would allow the European Commission, with the support of the Irish Government, to do with the farming industry exactly what they have done with the fishing industry.
"For this reason I am calling on all Irish farmers to vote No to the Lisbon Tr
eaty."
Major union urges 60,000 members to say 'No' to Lisbon
IRELAND'S second-biggest union, Unite, is asking its 60,000 members to vote 'No' to the Lisbon Treaty over a lack of any progress "in the critical area of workers' rights".
The union said that 'solemn declarations' on workers' rights cited by the Irish Government are "worthless".
Unite Irish Regional Secretary Jimmy Kelly said at the weekend:
"We were told that workers' rights would be protected under Lisbon and that we were scaremongering. When the Irish Government went seeking legal guarantees they got them in areas of taxation, of morality, and in numbers of commissioners but not in relation to workers' rights.
"Instead we got a 'solemn declaration' that is worthless given the way in which the European Courts have interpreted workers' rights as being subservient to those of business."

FAILURE
Jimmy Kelly said there was a singular failure by the Irish Government to secure the clause that would prevent social dumping and second-class treatment of workers. This, he said, was despite the fact that Unite – which is also the biggest union in Britain – and other unions throughout mainland Europe had sought the inclusion of a social progress clause in the Lisbon Treaty. Such a clause would have made it clear that the fundamental right to organise and the right to strike were in no way subordinate to the economic freedoms pursued by the EU member states.