27 August 2009 Edition
More than a game By Gael Gan Náire

My mother never reared a jibber
LADS I am disappointed in ye. Only three men turned up at Gills last Sunday to join the Vigilance Committee and one of them was scuttered, courtesy of my old friend Jim Birch, I would not be at all surprised, after a carvery lunch in the Auld Triangle.
Did we falter like the Jackeen? By Jaysus we did not. My mother never reared a jibber. Unfortunately the National Movement had not seen fit to supply us with replacement jerseys and I was not happy to find when I called to the offices of this illustrious organ that the shop there was full of bloody Celtic paraphernalia. Celtic clocks! What in God's name. You may be full sure I'd say that they were not alarm clocks as those lads wouldn't be getting up for work of a morning that's for certain.
And what was worse when I called to what in my time had been the centre of the National Movement, even though it was in the city of the Pale, wasn't there some sort of a shindig on. A Barbeque if you don't mind. Now lads have to eat, I am not saying that they do not, and nor am I a killjoy like our friends above but if I recall rightly all events under the auspices of the National Movement are supposed to be conducted in a national manner.
So, when I stuck my head around the corner did I hear the Kilfenora Céilí Band? I did not. Did I hear maybe even some of the new fangled groups like Planxty or the Bothy Band. I did not. What I did hear was a cacophony of noise and that it is all it bloody is. Pete Tong or somebody I think.
I will not pretend that the day at Croke Park with the Vigilance Committee was a success. I was called a 'wile' this and that and some of them had even read my column last week and suggested that I 'wise up' before I got a right kicking. Did that deter me? Did it bedamn! Any time I saw a lad approaching in his green and white hoops I challenged him and even though I was fecked from a height I was happy I had made my point and notwithstanding what I said about jibbers and the rearing of, I did make my way into the hallowed stadium in good time to see the match.



NOW I would not be a great fan of the football in the normal run of things. Down our way we used to say that a footballer was a lad who couldn't play hurling but enough of that. There was a time when it was a manly sport. Lads would stand shoulder to shoulder and there was mighty lepping and catching and the good long hard boot up the field and may the best man win.
Of course the bloody Jackeen changed all of that in the 1950s with all his running about and Fancy Dan effort. Afraid if you ask me to stay put and take a good running kick up the arse like a man. Oh no, they had to be running around and up to all sorts of trickery and jiggerypokery and indeed they were not beyond introducing soccer into the whole proceedings. Indeed I recall a blondey lad they had playing for them, Freaney I think, who used to dribble the ball! A good puck in the gob would sort the likes of that lad out and no apologies either.
Then the north men from Down took up that game and sure that was the end of the old catch and kick style except occasionally when the likes of Meath would burst up that combination with some good hard shoulders. And has it gotten any better! You may be damn sure that it has not.
What you have on top of everything is unmanliness. Lads diving and falling and pinching other lad's behinds and worse and biting and scratching and holding their heads and whinging and giving back cheek to the referee and pulling their jerseys over their heads like bloody soccer players when they score and that's only the half of it.
It's gotten so that you can't tell whether a lad has actually taken a puck and gone down genuinely (in my day your guts would have to be hanging out before you'd stay down for long) or whether he is acting the goat. And there's no point in blaming the poor old referee. Sure a lad would need eyes in the back of his head and another pair on antennae on the top of his head like an insect to see even half of what does be going on.
So there's no point in getting on to John Bannon. He's a good honest man from an honest county, Longford, even if they do not have a good record in the National Movement but leave that to one side now. My sympathies I have to say last Sunday were with the same man.
As for the game itself, well the consensus seemed to be that the other lads' bluff was called. When two decide to tango then you may be bloody sure it will be interesting. Not that I would know much about the game as I said, nor have much interest. 

An Phoblacht Magazine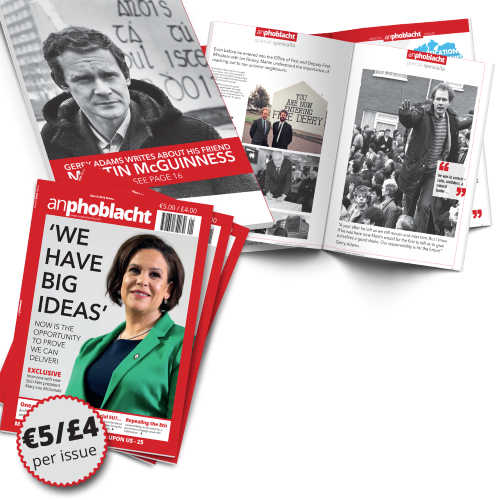 AN PHOBLACHT MAGAZINE:
The first edition of this new magazine will feature a 10 page special on the life and legacy of our leader Martin McGuinness to mark the first anniversary of his untimely passing.
It will include a personal reminiscence by Gerry Adams and contributions from the McGuinness family.
There will also be an exclusive interview with our new Uachtarán Mary Lou McDonald.
test