27 August 2009 Edition
Time to confront the neo-liberal agenda for education
BY GERRY QUINN

THE current economic crisis has resulted in savage education cuts and more are threatened. These are socially and economically short-sighted as well as being unjust.
What is particularly nauseating about this attack is the targeting of many disadvantaged students. All of this has been accompanied by a campaign of propaganda against teachers and other frontline public servants, resulting in a penal tax called the pension levy.
Among the cheerleaders of this campaign, which seeks to scapegoat the public sector workforce, are those politicians, economists and journalists who championed the unbridled free-market. Where were these voices during the prosperous years when local communities cried out for school buildings? Where was their enthusiasm for efficiency when this state was awash with money but languished towards the bottom of OECD international tables for investment in education?    
Before this social and economic crisis started, damage was already done to education by neo-liberalism. In much of the developed world this included an increased focus on the 'knowledge economy' at the expense of a more balanced education.
Other aspects of what was described as reform or efficiency included prioritising measured educational outcomes, undermining teacher professionalism through 'name and shame' strategies and promoting deep competition with socially-divisive school league tables.
The USA and Britain were leaders in this regard but, tellingly, both of these countries occupied last and second-last place in UNICEF's 2007 survey of child well-being in 20 of the world's richest countries.
The challenge for progressive movements and educationalists is to work together to show that there is an alternative.
Support for strategic alliances can be built and sustained by arguments based on research, analysis and social justice. Such arguments can be found in The Future of Educational Change, International Perspectives (edited by Ciarán Sugrue), which contains contributions from a number of international experts.

Where were these voices during the prosperous years when local communities cried out for school buildings and we languished towards the bottom of OECD international tables for investment in education? 
The book highlights how educational change has been to the fore internationally over the past quarter of a century and how this has been dominated by a right-wing agenda which has sacrificed equity and social justice at the altar of neo-liberal perspectives on efficiency and economics. It critiques how educational research is increasingly shaped by right-wing 'think tanks' and calls for an end to a change agenda which perpetuates inequality.
He identifies individualism and the neo-liberal economic ideology as consistent with the view that public education is no longer a collective enterprise but a commodity to be purchased in order to increase your power in the knowledge economy. It is the competing visions of a society of citizens or an economy of consumers, which cuts to the core of the debate. For Sugrue the way forward is a rapprochement between the two:
"While each chapter in this volume speaks for itself, focusing on recent reform endeavours within and between various national borders, the additional intention is [to move] beyond the more narcissistic pursuit of educational advantage; to create and to persuade others of the necessity to construct an appropriate rapprochement between economy and society."             
There are lessons here for the Irish Government.
The current deficit in learning for democracy and personal development in the 26 Counties is exemplified by the Cinderella status of Civic, Social and Political Education (CSPE) on the curriculum. We require a broader vision for education, one which goes beyond the current rhetoric, and strengthens education for personal development, citizenship and democracy as well as the knowledge economy.
But who has been setting the agenda for judging school performance? In the developed world this has been influenced by School Effectiveness Research (SER), with its origins in the USA. According to Professor John MacBeath, the Chair of Educational Leadership at the University of Cambridge:
"Much of mainstream effectiveness research, however, may also be viewed in terms of social efficiency and social mobility. Research studies have, indirectly and sometimes directly, furnished policy makers with a formula for greater efficiency. This is truer of some countries than of others and is perhaps most marked in the UK, where value for money, performance tables, standardised testing, value-added and parental choice have been introduced on the back of school effectiveness.
"The School Effectiveness Unit at the Department of Education and Skills has drawn heavily on such studies and has employed key people from the movement worldwide to contribute to policy formation and evaluation."
The Finns present important challenges for prevailing policy in states like this.
According to Andy Hargreaves, Chair of Education in the Lynch School of Education at Boston College, Finland has essential lessons for countries seeking to be educationally and economically successful and also sustainable knowledge societies. It has, for example, a broad curriculum which includes the visual, creative and performing arts.
Finland, which has suffered almost seven centuries of domination and oppression, has been liberated only within the last three generations and has one of the world's highest-performing education systems and economies. It is not simply its Lutheran work ethic that explains this. At the heart of its success is an ability to reconcile economic success with social justice.
Their strong national identity, social cohesion and confidence have created a commitment to social responsibility where there is, unlike many other developed countries, a high level of trust between the state and teachers. Hargreaves says:
"The reason that Finland accords such high status to its high-calibre teachers is because they are part of a great social and public mission that merits strong state investment and enhanced social esteem, not because they are treated as competition, performance-driven individuals who prepare their students for the economy."

Education requires adequate financial investment if we are to be economically competitive and socially equitable 
Finland's colonial history is not its only parallel with Ireland.
Like our current situation, it had a major banking crisis in the early 1990s which pushed unemployment up to 18% and public debt to over 60% of GDP. But its economic progress since then has been remarkable and provides a model for us. But so too does its highly-successful education system.
Hargreaves was centrally involved in researching and writing a report on Finland for a recent OECD publication called Improving School Leadership Volume 2: Case Studies on System Leadership. It identifies the characteristics of what is widely viewed as Finland's education miracle.
A key observation is that the Finns have stood apart from the neo-liberal reforms which emphasise testing, targets, curriculum prescription and market competition. It is pleasantly ironic then that they score best in international testing of students. This point is pivotal to counteracting right-wing arguments about educational efficiency.
Other features of Finland`s success include self-evaluation rather than "imposed inspections or test-based accountability that rank schools". The report also states:
"Teacher quality and performance are addressed by establishing the appropriate conditions to attract high-level professionals through good working conditions, clear purpose, status, autonomy and reward."          
Education requires adequate financial investment if we are to be economically competitive and socially equitable.
It also needs a vision which rejects neo-liberalism and embodies democratic values.
A new direction must embrace the concepts of the knowledge economy and the knowledge society. Finland provides a model for a way forward in this regard, one which shows how economic recovery, educational progress and social justice can be compatible.
Also see: Sinn Féin launches fight against education cuts
An Phoblacht Magazine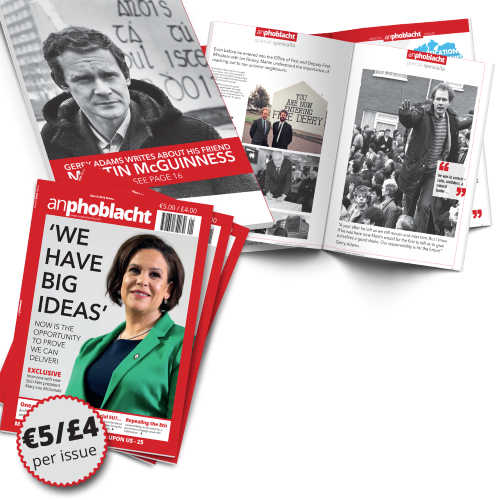 AN PHOBLACHT MAGAZINE:
The first edition of this new magazine will feature a 10 page special on the life and legacy of our leader Martin McGuinness to mark the first anniversary of his untimely passing.
It will include a personal reminiscence by Gerry Adams and contributions from the McGuinness family.
There will also be an exclusive interview with our new Uachtarán Mary Lou McDonald.
test