13 August 2009 Edition
Féile an Phobal: The People's Festival celebrates its 21st birthday
BY JIM GIBNEY

BELFAST'S Féile an Phobal (The People's Festival) notched up a special birthday this year. It reached the grand old age of 21 and with its celebratory keys in hand it opened its Féile doors to thousands of people who enjoyed its packed programme of events.
In the introduction to its clár, Seán Paul O'Hare, the director of Féile, said:
"Féile an Phobal, in its ethics, vision, tolerance and inclusiveness is living proof of how arts, culture, sport, open debate and discussion can raise up entire communities and contribute to peace, progress and the well-being of society in general."
Féile organisers take great pride in their ability to maintain the mix of politics and craic which has been a hallmark of Féile since it was established in the summer of 1988. Féile, correctly, jealously protects and promotes this feature even though it might well have cost it resource difficulties at different times over the years.
This year's programme of political debates and discussions continues to reflect the changes in the political landscape in Ireland brought about by the Peace Process.
There were many individuals who made an invaluable contribution to both the peace and political processes speaking at this year's Féile: President Mary McAleese; Derryman Brendan Duddy, the secret peacemaker who was a link between the British Government and the IRA for over two decades; and Reverend Harold Good, who was publicly thanked by Gerry Adams at an event he spoke at for his assistance to republicans over the years (Harold Good, along with Fr Alex Reid, witnessed the decommissioning of the IRA's weapons); senior republican Seán Murray and leading loyalist Jackie Mc Donald shared a platform with a former RUC-now-PSNI officer; and Belfast Lord Mayor Naomi Long – an unlikely event a short time ago.


PJ McGRORY HUMAN RIGHTS LECTURE
This year's Féile was particularly honoured that the President Mary McAleese was part of Féile '09. She delivered the 15th PJ McGrory Human Rights Lecture.
In that captivating and scholarly presentation in defence of human rights, President McAleese recognised the special relationship that Féile organisers have developed between politics and arts.
"I am particularly struck by the fact that this annual lecture, which has generally dealt with tough and thorny issues to do with politics and justice, is held during a lively and vibrant arts festival, Féile an Phobal, where music and politics, comedy and soul-searching, drama and dance are not a series of discrete bunkers but a rich and robust warp and weft of everyday community life and entirely consistent with Paddy's own great personal interest in Irish culture and music along with his abiding passion for human rights."

YOUTH FRINGE
This year, Féile added another important dimension to its activities by introducing a new Féile Youth Fringe Festival.
On its first outing, the Youth Fringe scored a huge success with its 'West Belfast Youth Talks Back', a young persons' opportunity to add their voices to the very popular adult version which has been one of Féile's flagship events since the beginning.
Youth Fringe's panel had a remarkable line-up which included senior republican Seán Murray and equally senior loyalist Jackie McDonald, PSNI Chief Superintendent Mark Hamilton, Belfast Lord Mayor Naomi Long, and a representative from Belfast's Education and Library Board. The veteran and highly respected journalist, Anne Cadwallader, chaired the proceedings, which were attended by over one hundred young people.
The presence on the panel of people representative of three of the forces involved in the armed conflict – republican, loyalist and police – is a positive indication that the Peace Process still retains the ability to break new ground and present new challenges to those benefiting from the changed times we live in.
But the 'old times' that dominated so much of our lives over the last 40 years were also a prominent element of this year's Féile.
The pogrom of Clonard by the combined forces of the Six-County state (the RUC, 'B' Specials and loyalists) was recalled in this the 40th anniversary of that tumultuous occasion – an occasion which seared the minds of Northern nationalists and Catholics and marked the beginning of the end of the Six-County state as it had existed since partition in 1920.  
Clonard Hall, in the grounds of the famous Clonard Monastery, one of main the targets of the pogrom, was packed to the doors with residents and visitors to hear about the burning of Bombay Street and the neighbourhood surrounding it.
The memories of 15 August 1969 were preserved in perpetuity in a homily delivered by one of the monastery's Redemptorist priests, Fr Eagan, to the men's confraternity the night following the sacking of Clonard district.
The recorded homily lasted 28 minutes. It is a haunting and gripping eyewitness account of what happened on that frightening night. It is all the more compelling to listen to because the voice of the priest has an air of authority to it and was clearly trained for his priestly duties to convey messages from the gospel to the congregation.
The message from 40 years ago was every bit as effective as we listened to a word-by-word account of the attack.
Two books were published to recall the pogrom: one of pictures taken by local photographer Gerry Collins hours after the burning of the Bombay Street area, Bombay Street Taken from the Ashes; the other an account of the rebuilding of Bombay Street by a group of Belfast Irish-speakers who built Belfast's first Gaeltacht on the Shaws Road in the late 1960s, From Ashes to Aisling – Belfast Gaels and the Rebuilding of Bombay Street.
Seán Mac Seáin, who was part of the team of builders, described the project as "exciting and bold" and an example of people relying on their own skills and determination

VISTEON OCCUPATION
A more recent example of determination by a group of workers was the occupation in March of this year by more than 200 workers of the Visteon factory in west Belfast.
The story of that seven-week-long occupation and its successful conclusion was recalled when many of those involved attended the platform Féile provided them.
It is a classic story of workers rising to the challenge posed to them by a set of uncaring managers who tried to summarily sack them after, in some cases, decades of employment.
Joined by the community and supported by Sinn Féin and other parties, the workers' struggle secured a better deal than was first expected.
The mistreatment of the Visteon workers raised the age-old issue of what type of society it is we live in when people can be dismissed out of hand from their employment.

INEQUALITY AND HEALTH
The quality of society and the state of our mental health was the subject matter of a very interesting presentation by Dr Lynne Friedli in this year's Belfast Trust Lecture, 'Inequalities – Bad for Your Mental Health'.
Lynne outlined the relationship between economic inequalities and the scale of mental health problems particularly for the disadvantaged in society.
Dr Friedli argued for a better understanding by government and planners of society about people's mental well-being and how it is determined by their social circumstances.
And it was precisely this point, the quality of our lives, that President McAleese built her lecture on when she said:
"Human rights are not concessions begrudgingly given but rather an innate part of the birthright of every single human being that arises simply by virtue of being human.
"The quality of our lives often rests on the presence or absence of respect for those rights at every level of society, from the political and legal systems within which we live to the streets and families within which we live."
For 21 years, Féile an Phobal has pioneered many debates about the need for a new society based on the real, not imagined, needs of people. This year followed that well-established and important tradition.
Exhibition by former POW Rab Kerr 
An Phoblacht Magazine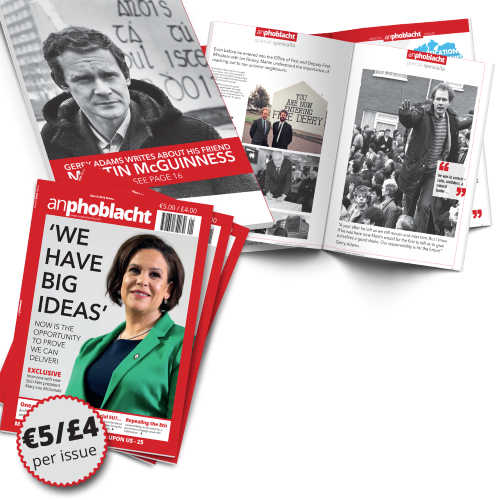 AN PHOBLACHT MAGAZINE:
The first edition of this new magazine will feature a 10 page special on the life and legacy of our leader Martin McGuinness to mark the first anniversary of his untimely passing.
It will include a personal reminiscence by Gerry Adams and contributions from the McGuinness family.
There will also be an exclusive interview with our new Uachtarán Mary Lou McDonald.
test