13 August 2009 Edition
1969-2009 The struggle continues
FORTY years ago the Orange state began to come apart at the seams as people demanded their democratic entitlements to equality in voting, housing and employment. Those who sought their rights were attacked by the RUC who attempted to beat and shoot them off their own streets. Loyalist mobs and the RUC attacked nationalist homes and in Belfast burned whole streets to the ground.
The British government responded by attempting to prop up the sectarian state in the North, sending in the British Army.
But out of the ashes of the Clonard and other districts came a risen people. Spearheaded by a reorganised IRA, resistance as had never been seen in many decades was born.
From the start republicans pointed out that the root of the conflict was partition and Britain's denial of the right of the Irish people to self-determination.
In 2009 the unionist one-party state is gone. The armed conflict is over. The British Army is off the streets and most of its apparatus in the North has been dismantled. The RUC has been replaced with an evolving police service. War has been replaced with a peace process and a political process which has seen the previously unimaginable take place  – unionists sharing power with republicans.
Sinn Féin is now the largest party in the Six Counties in terms of first preference votes. That achievement is the electoral manifestation of the advances made by the nationalist community.
While this is a long way from the pogroms of 1969, which marked the beginning of a new phase in the struggle for Irish freedom, the struggle for national unity and independence has yet to be won.
For Irish republicans in 2009, the achievement of Irish unity and a sovereign 32-County republic based on equality and social justice is a live political project. Sinn Féin is pursuing a political strategy to achieve this.
This week, Sinn Féin activists from across Ireland, met in Navan, County Meath to discuss how best to further that strategy. The meeting saw lively contributions from a range of young and old, urban and rural, articulate and committed party activists who outlined their ideas on the way forward and their determination to provide political leadership in their communities in the time ahead.
Forty years after the Battle of the Bogside in Derry and the burning of Bombay Street in Belfast republicans are as engaged as ever in the struggle for national unity and social justice and equality in Ireland and as committed as ever to its success.
An Phoblacht Magazine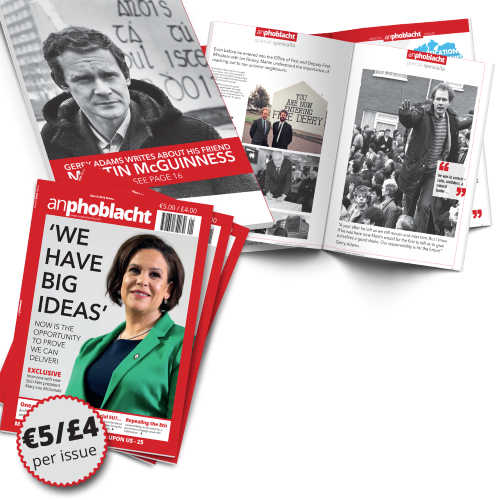 AN PHOBLACHT MAGAZINE:
The first edition of this new magazine will feature a 10 page special on the life and legacy of our leader Martin McGuinness to mark the first anniversary of his untimely passing.
It will include a personal reminiscence by Gerry Adams and contributions from the McGuinness family.
There will also be an exclusive interview with our new Uachtarán Mary Lou McDonald.
test