6 August 2009 Edition
THE JULIA CARNEY COLUMN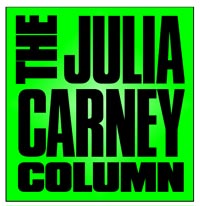 Prostitutes, property developers and rabid right wingers
IT DOMINATES the news cycle. Sky News updates are nigh on hourly. It screams from the stands in every newsagents I've checked. Yes, everyone has an opinion on the split between Jordan and Peter Andre.
Short version, for those of you too busy poring over campaign documents: Jordan and Peter Andre, who met on a reality TV show, married and have recently broken up. They're kind of famous. That's about it really.
It's simultaneously on the front page of Heat, Star, Reveal, OK and Now (glossy celebrity mags that aren't on many Shinner reading lists, I'd venture), all of them carrying the same story, even with some of the same headlines. There's regular and substantial coverage in the tabloids as Jordan and Peter fight a war of words through their publicists and paparazzi.
Just worth reminding ourselves every now and again that while political activists wrestle with economic decline and DUP obstruction at Stormont, most people are arguing over whether Pete did Jordan wrong.


ANYWAY, on more substantial matters, I'm beginning to enjoy watching Colm McCarthy get slapped through the Irish media. In Monday's Irish Times, journalist and author Sara Burke took a thousand words to dismantle McCarthy's suggestions on how to save money in the health service.
For example, on the night the McCarthy report was published, the author said "everybody knows" (beware, oh beware, the people who use that phrase – it generally means they haven't a notion other than their inbuilt prejudice) the Irish health service is over-staffed. But Burke points out:
"According to the OECD in 2008, the total health and social care employment in the Irish public sector was 30.8 staff per 1,000 inhabitants, below the OECD average... By any international comparison, we still have fewer doctors, consultants and GPs. In nursing, comparative Irish figures look above the OECD average, yet... comparisons do not take account of the fact that most Irish nurses work part-time nor that... there are virtually no nurse assistants in the Irish health system, whereas in France there is a nurse assistant for every nurse."
Our rabid right-winger also argues that we have an extremely expensive health service by international standards with billions being poured into a black hole with no sign of improvement. Over to Burke again:
"Newly-published OECD health data shows that Ireland still spends less than the OECD average on health – 7.8% versus 8.9%. A representative survey of patients, Insight 07, found very high satisfaction ratings with the health service, despite the obstacles of access."
This is not to say the health system is perfect. As anyone who has read Burke's recently-published book on the Irish health service, Irish Apartheid: Healthcare Inequality in Ireland (if you haven't, put down this newspaper and away to the bookshop with you; it's just that good) she's extremely critical of the system.
She simply doesn't believe that McCarthy's slash and burn, scorched earth approach to the public service will work. And she's right.
And Burke's solutions? Greater use of generic drugs, no wage increases for consultants, no public money on private healthcare such as the National Patient Treatment Purchase Fund. It's like she's quoting our boy Caoimhghín, who's been beating the drum on those issues for quite some time.


ANOTHER bit of right-wing propaganda that has been spread in the last few weeks has been the need to cut the minimum wage, which Government ministers, IBEC and the Small Firms Association has been describing as the highest in Europe. But as Sarah McInerney reported in the Sunday Times:
"New research from the European Commission (EC) has undermined the Government's assertion that Ireland has the highest minimum wage in Europe after Luxembourg.
"Eurostat, the EC's statistical office, adjusted Ireland's minimum wage to reflect purchasing power based on the cost of living here. When measured on this basis, the Irish minimum wage drops four places to sixth on the table, worth less than that paid in the UK, France, Belgium, the Netherlands and Luxembourg."
Bear in mind as well that we're talking about 85,000 workers (around 5% of the workforce) and you can see that cutting their wages isn't going to save the economy or make Ireland competitive again.
This has nothing to do with any of that. It's about unscrupulous businesspeople using the recession to try and tighten the screws on their workers for a few more greasy coppers in the till.


FINALLY, an interesting report in the China Daily, which asked the Chinese public which category of workers they trusted the most.
In at number three, behind farmers and religious workers come prostitutes. Way, way down the list were politicians, scientists and government officials.
"The sex workers' unexpected prominence on this list of honour... is indeed unusual," said the China Daily editorial.
"At least [the scientists and officials] have not slid into the least credible category, which consists of real estate developers."
Even in China, no one likes a developer.

An Phoblacht Magazine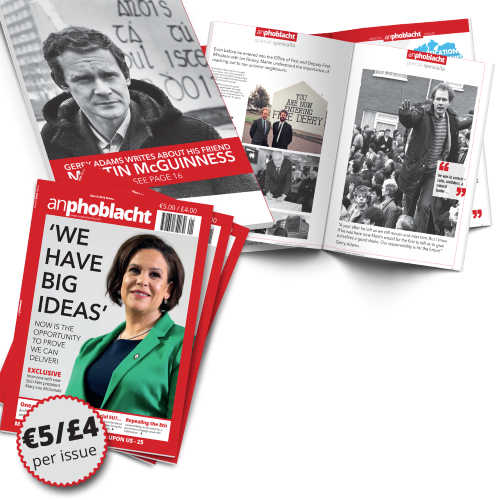 AN PHOBLACHT MAGAZINE:
The first edition of this new magazine will feature a 10 page special on the life and legacy of our leader Martin McGuinness to mark the first anniversary of his untimely passing.
It will include a personal reminiscence by Gerry Adams and contributions from the McGuinness family.
There will also be an exclusive interview with our new Uachtarán Mary Lou McDonald.
test