6 August 2009 Edition
'Too many women are jailed'
LAURA FRIEL TALKS TO MARTINA ANDERSON
THE criminal justice system is failing women, Sinn Féin's Martina Anderson MLA has told An Phoblacht.
Martina, who represents the party on the Policing Board, was speaking after Sinn Féin published its response to a recent consultation document by the British Government for the management of women offenders.
"The criminal justice system has been failing women for a very long time. A greater proportion of female offenders are jailed and many for lesser offences than their male counterparts.
"Only a small percentage (13%) of those convicted in the North of Ireland are women; the vast majority of those engaging in criminal and anti-social behaviour are men.
"Rather than recognising this, the criminal justice system is still more likely to result in greater punitive sanctions against women offenders.
"It's not that women offenders attract greater hostility from the criminal justice system so much as the system fails to take account of the reality of their lives. This often results in injustice by default," says Martina.
"Of course, the justice system itself is dominated by men, from police to lawyers, magistrates and judges, probation to prison, in all these aspects of the criminal justice system women are under-represented and this inevitably has consequences. And it is not simply that there is less empathy within the system with the lives of women. Because the vast majority of offenders are men, the system is primarily designed for them. Women offenders are simply dealt with by default in that system and that leads to injustice.
MINOR MISDEMEANOURS
Most women who end up before the courts have committed relatively minor misdemeanors and this is reflected in the kind of sanctions most likely to be imposed on conviction, Martina says. But that's not the end of the story.
Over 60% of convicted women are fined but failure to understand the reality of their lives means that many still end up in jail. "The system doesn't necessarily set out to treat women more harshly but that's what often happens and Sinn Féin is determined to address that.
"The biggest factor underpinning women's incarceration is their subsequent failure to pay an imposed fine. So we have this crazy situation in which a woman might be brought before the courts because of debt, or other financial irregularities, and as a consequence will be most likely fined. But a woman already struggling with poverty is highly likely to default on a fine. So it becomes a vicious circle: poverty-related offences bring women before the criminal justice system, which responds by imposing a greater financial burden and when they don't pay up, they're jailed.
"Over a third of women who end up in prison do so because they have failed to pay a fine."
Another anomaly within the system that, Martina Anderson highlights and needs to be scrutinised is that currently a greater proportion of women charged with an offence end up in jail on remand.
A recent study showed that, on average, 42% of women are held on remand compared to 35% of men. While the number of men held on remand remains fairly steady at around a third, the proportion of women can sometimes be as great as a half.
PATHWAYS TO OFFENDING
"A number of key factors have already been identified as acting as pathways to women offending," Martina explains.
"Poverty is a key factor, often resulting from a range of social factors from poor educational and employment opportunities, inadequate social housing and welfare provision. Other factors include mental health issues, alcohol abuse and drug addiction also play a significant role.
"Of course, all of these involve a measure of personal responsibility but they are also the consequences of the kind of society in which economic inequality is hardwired into the system. As republicans we are very conscious of that."
Recently, other factors have been identified as significant, Martina says.
"A high percentage of women offenders have been victims of abuse. This includes domestic violence, sexual abuse and rape. In other words, many women offenders are also victims themselves.
"Clearly, trauma, particularly where it is unaddressed, can leave women very vulnerable. What can start off as a survival strategy, self-medicating through the use of alcohol and drugs, can lead to addiction, dysfunction and crime."
MARGINALISED
Many women who end up coming before the criminal justice system are the most disadvantaged and marginalized members of our society, the Sinn Féin MLA says.
"It's hardly surprising that out of that experience some women are driven into behaviour that brings them to the edge, and sometimes over the edge, of lawful behaviour. Clearly, in many cases, support in changing their circumstances would be more appropriate than punitive measures such as financial sanctions and imprisonment."
And the way in which women experience imprisonment and the impact on wider society, particularly when they have dependent children, is very different from the way in which imprisonment is experienced by men, Martina emphasises.
"We need to develop gender-aware strategies and facilities, both to keep women out of jail whenever possible and render imprisonment, when necessary, more appropriate to the needs and circumstances of women offenders."
DOCUMENT ON MANAGING WOMEN OFFENDERS
Martina concedes that the British Government's consultation document on the management of women offenders in the Six Counties recognises and attempts to address many of these issues, although she adds:
"But one of the weaknesses is that their strategies emerge out of studying England and Wales and transposing that onto the North of Ireland.
"It is Sinn Féin's view that the transfer of policing and justice powers will provide a better opportunity for getting it right here because it brings with it local knowledge and accountability."
In the interim, Sinn Féin has identified a number of flaws in the draft proposals that need to be addressed.
The document recognises the importance of developing non-custodial, restorative alternatives but it sees this as a top-down initiative.
"Restorative intervention should not be an NIO-led initiative but community-based," the Foyle MLA insists. "As such it could build upon structures and good practice already operating in many of our communities around community restorative justice."
The document recognises the importance of supporting women who are at risk of offending or reoffending by addressing key factors which act as pathways to crime but sees this "primarily within the limited terms of a resettlement strategy". Martina Anderson says this is clearly inadequate. "Worse still, current resettlement strategies have already been identified as fundamentally flawed when it comes to women.
"Recent reports were highly critical of these strategies on the grounds that women had been virtually ignored and restricted funding had rendered them aspirational rather than real mechanisms of intervention and agents of change."
WOMEN'S CENTRES
The consultation document highlights the deployment of women's centres as a means of providing gender specific support.
A pilot scheme based on the concept of a women's centre was initiated in Belfast in 2008 under the direction and staffed by the PSNI. But once again the NIO has opted for an 'outside the community' approach.
Across Belfast alone, there are at least ten community-based women centres currently working with and providing support to women within their communities.
"It would make better sense to build upon existing community-based initiatives," says Martina.
Finally, the NIO recognises the importance for providing a "tailored approach" to the management of women in custody. Sinn Féin supports the establishment of a separate women's prison but the current facility, Ash House at Hydebank, is not fit for purpose.
"In other words, we need urgent and extensive input into improving conditions in which women offenders are currently being held," says Martina.
"Sinn Féin is committed to work towards a policing and justice framework that promotes public safety and the prevention of crime with the appropriate sentencing for offenders.
"We are committed to the harmonisation of policing and justice systems on an all-island basis.
"And we believe that such a framework must be democratic, accountable, community-centred and informed by preventative and restorative approaches."
An Phoblacht Magazine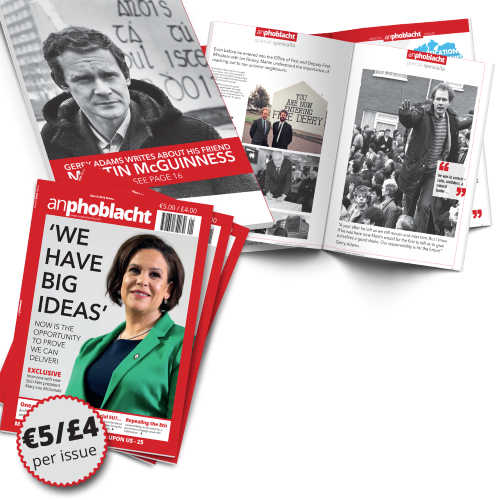 AN PHOBLACHT MAGAZINE:
The first edition of this new magazine will feature a 10 page special on the life and legacy of our leader Martin McGuinness to mark the first anniversary of his untimely passing.
It will include a personal reminiscence by Gerry Adams and contributions from the McGuinness family.
There will also be an exclusive interview with our new Uachtarán Mary Lou McDonald.
test