6 August 2009 Edition
THE RECESSION: From German Christian Democrats to American liberals and Chinese communists, they all grasp the fundamental fact: you can't cut or tax your way out of a recession, you can only grow our way out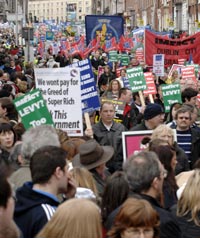 Taking on the economic orthodoxy on their own turf

BY MICHAEL TAFT
Research Officer, Unite

LET'S focus on the central aspect of economic debate: fiscal policy. Admittedly, deficits and borrowing and debt are pretty dry issues, but the political battle will be won or lost here.
The reason why the Fianna Fáil/Green Party Government brought in the April budget was not to halt the recessionary slide or to stop unemployment climbing. It was to bring the deficit under control. 'An Bord Snip' was commissioned to propose cuts that would reduce the deficit. No doubt, the Commission on Taxation will be argued on this ground, too (though, given its mandate requires it to maintain the low-tax model, this will be interesting).
We cannot invest in job creation. Why not? The deficit. We cannot combat poverty. Why not? The deficit. We cannot expand public services? Why not? Guess...
All economic issues begin and end with the fiscal deficit – at least that's how the Right have framed the debate.
Okay, let's confront that ground. Let's argue the economic toss. While I'm not suggesting we ignore issues of equity, the problem is that if we debate fiscal policy on the basis of 'fairness' or 'sharing the pain equally' we will lose. The exasperated interviewer will always come back at us:
'Where would you cut? Where would you tax? We're borrowing €400 million a week. This can't go on!'
Let's show that the premises from which these perennial questions emerge are wrong. For no matter how much cut or tax, pursuing deflationary policies is like running in quicksand – you work up a lot of sweat but you continue sinking.
For instance, An Bord Snip proposed cutting public sector employment by 17,000, claiming it would save €700 million. This raises serious questions of equity. But it also raises questions of economic efficiency. Up to now we have emphasised the former but have been weak on the latter, allowing the Right to set the agenda. Let's remedy this.
The ESRI has run a number of economic impact simulations on proposals to cut public expenditure and increase taxes. In one, they estimated the effects of cutting 17,000 jobs in the health and education sectors:
•    GNP volume would fall by nearly 1% (more recession);
•    Consumer spending would fall by 1/2 %age (more businesses up against the wall);
•    Unemployment would rise by nearly 1 %age point (or 20,000 more on the dole).

A high price to reduce the deficit. But would it reduce the deficit? The ESRI estimates this proposal would reduce the borrowing requirement by 0.2 % – 0.2 %? We will essentially have the same debt level but our economy will be in even a weaker position to generate the activity needed to deal with the growing debt. That's the logic of the Right.
The ESRI ran other simulations – public sector wage and investment cuts along with tax increase measures, all producing similar results, though tax increases were marginally less deflationary.
This shouldn't be surprising. The fundamental rule in a recession is that you don't take money out of the economy. That's already happening – which is why we have a recession in the first place. Instead, you put money back in: invest, spend. And since the private sector can't do this now, only the state can engineer this expansion.
Unite the union has published Growing the Economy, a programme to address not only unemployment and economic decline but ultimately the fiscal deficit. We call for substantial and sustained investment in both our physical and social infrastructures – investments needed, in any event, if we are to modernise our economic base and exploit the eventual recovery in global demand. We have one of the worst physical infrastructures in the industrialised world (we rank 26th out of 30 OECD nations), our public services are European in name only; there is considerable scope for invesment from which nearly a 100,000 jobs could be created over the next four years.

But what about that €400 million a week we are borrowing? Can we really spend and borrow more? One fact that rarely features in the debate is our low-debt status. We could borrow over €15 billion over the next two years and still remain below the average Eurozone debt level. And the National Treasury Management Agency has demonstrated that there is a strong market for our debt. With that borrowing we could invest  – creating jobs and increasing economic activity in necessary and sustainable activities. This would raise more tax revenue and reduce Government spending (through lower social welfare cost). In other words, reduce the annual deficit. Instead of borrowing to subsidise people on the dole (one of the most wasteful expenditures), we could be borrowing to put them back into work.
This is not some radical fancy. From German Christian Democrats, to American liberals, to Chinese communists – all are following this formula because they grasp the fundamental fact: you can't cut or tax your way out of a recession, you can only grow our way out.
When we grasp this, public expenditure and tax reform become part of the solution. No doubt there are public sector inefficiencies (it would be a shock were it otherwise). But Donal Palcic over at Progressive-eonomy.ie has proposed a 'real' saving, suggesting we take our telecoms network back into public ownership. There would be no cost to the Exchequer, allow us to merge all the state telecom assets (now spread out among five agencies) into one company, and facilitate investment into New Generation Broadband, thus enhancing our competitiveness. That's win, win, win: a truly productive approach to public sector and economic efficiency.
And, yes, we can still raise taxes – but not on low and average income earners during the recession. This only reduces consumer spending and so forces businesses to contract. Instead, raise them on high-income, high-wealth sectors. This would raise money from less deflationary sources.
In the April Budget, the Government introduced deflationary measures to hold the deficit at 10.7%. Subsequently, the EU Commission projected the Government would fail; that by next year the deficit would spiral out of control at over 15%. Other observers – the ESRI, the IMF, the OECD – have all come to the same conclusion if not to the same degree: the Government will fail in their fiscal targets. This has not featured in the debate – that a policy of spending cuts and general tax increases are failing, that deflationary budgetary policies in the middle of a recession is little more than economic self-mutilation.
We should use this. We should confront the Right on fiscal policy. We should contest the ground they have monopolised. This is a debate over hard economic facts. Good. The facts are on our side. We can win that debate.
Michael Taft, Research Officer, UNITE. Notes on the Front (www.notesonthefront.typepad.com ) 
An Phoblacht Magazine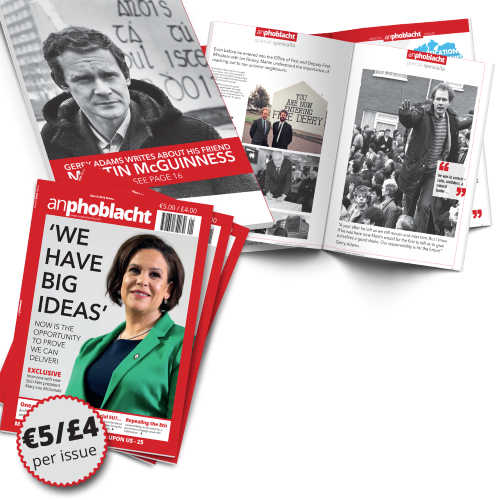 AN PHOBLACHT MAGAZINE:
The first edition of this new magazine will feature a 10 page special on the life and legacy of our leader Martin McGuinness to mark the first anniversary of his untimely passing.
It will include a personal reminiscence by Gerry Adams and contributions from the McGuinness family.
There will also be an exclusive interview with our new Uachtarán Mary Lou McDonald.
test