25 June 2009 Edition
Firefighters may ballot for strike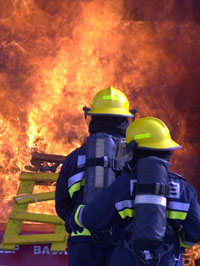 BY STEPHANIE LORD
Two thousand firefighters employed in the 26 Counties may ballot for industrial action after management failed to consult with their trade union representatives on a new committee that will oversee the sector.
The Irish Government has established a new 'National Fire and Emergency Committee' to inquire into the operation of the fire service. The secretary of the SIPTU Firefighters' Committee, John Kidd, has said that members refuse to attend the new committee as they believe it will not address their safety concerns and there is a lack of public participation.
The SIPTU union committee will meet in Cork this week to decide on what industrial action may be taken.
Newly-elected Wicklow Sinn Féin County Councillor John Brady said that the new state-wide committee is a "disappointing bureaucratic charade" and said a single national fire authority covering the 32 Counties is needed.
Cllr Brady, who has campaigned with the families of two firefighters who died while working in Bray last year, said:
"We firmly believe that it was the very nature of the structures and the fact that they were controlled by local authorities and not qualified firefighters that led to the tragic deaths of Brian Murray and Mark O'Shaughnessy.
"These arrangements announced by Environment, Heritage and Local Government Minister John Gormley do not address that central issue. Instead, what we have emerging is a disappointing bureaucratic charade where we will once again have local authorities playing a key role in providing a service for which they are ill-equipped in terms of technical expertise and resources to provide."
The Wicklow Sinn Féin councillor went on to say that a recent report into firefighting in this state said that the island needs a single national fire authority that would oversee the provision of the service across the 32 Counties.
"Minister Gormley needs to listen to firefighters on the frontline and come back with new arrangements otherwise this new directorate will be nothing more than an expensive piece of window dressing."
Sinn Féin has previously proposed a number of mechanisms in relation to firefighting policy alongside an island-wide agency which include regular local consultation with representatives of emergency service workers and ensuring they have regular local equipment audits, inclusion of fire service representatives on local authority planning committees and the establishment of Fire Service Advisory Boards at local level which include residents and local elected representatives, the HSE and other relevant persons.