25 June 2009 Edition
THE JULIA CARNEY COLUMN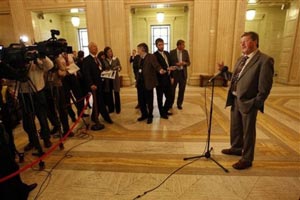 Resurrection shuffle
SAMMY WILSON as Minister for Finance. Edwin Poots as Minister for the Environment. Nelson McCaulsand as Minister for Culture. There's days when you just think the DUP is taking the piss, when you imagine Robbo and Doddsy sitting round the conference room in the DUP fuhrerbunker dosed up on weed and cider trying to outdo one another with more ridiculous suggestions.
Ah but maybe I'm underestimating them. Sammy, after all, once taught economics in a grammar school and you have to hope this means he's functionally numerate in some way, though we all recall that time he had to take off all his clothes so that he could count to 21. Dark times.
The wonderfully-named Edwin Poots is taking over the environment portfolio from Sammy the climate change denier. Could this herald a new dawn of thinking unionism, tackling the issues of global warming? Here at An Phoblacht, we suspect not. Edwin, you see, doesn't believe in evolution. He's on the record for saying the earth is, give or take, about 6,000 years old. Bear in mind that the last ice age took place around 20,000 years ago, or 14,000 years before the planet existed, according to Edwin, and you get an idea of the implications this rigorous approach to scientific reason will have for the environment.
And then there's Nelson. Ahhh, Nelson. His understanding of culture will probably be shaped from his time as the Orange Order's education officer. During this time he argued that Catholics were "non-Christians" and "unbelievers". The man most opposed to the Irish language, who helped invent Ulster-Scots, is going to be in charge of the Irish Language Act. As the Irish News pointed out, he's refused money for a film festival with the word 'Celtic' in the title and he's condemned the GAA more times than he's marched in Orange parades, which is a lot. We're talking about a man Ian Paisley Jnr once called "gaga, completely gaga".
He's already collecting books and paraffin.



MEANWHILE, some good news for Enda Kenny fans. No doubt there are some of you (though what you're doing reading this paper is anyone's guess) who dream of Enda Kenny as Taoiseach; who lie awake in bed at night imagining your country gripped in his firm but gentle hands, guiding you to the promised land with encouraging words of gentle and timeless wisdom.
Well, if making this sandy-haired superman with a habit of telling racist jokes your leader is something you feel ready to take on as your life's work then I have some great news because the Labour Party is recruiting both a National Organiser (by which they mean 26 Counties... obviously) and a General Secretary.
You can live the dream and devote yourself to working 24/7 to elect as many Labour TDs as possible to ensure Fine Gael takes power, making Enda Kenny Taoiseach, George Lee Minister for Enterprise, Richard Bruton Minister for Finance and Eamon Gilmore a fetching stand-in for Enda at ambassadorial receptions.
Coyly, the advertisements on www.labour.ie make no mention of salary but I do recall a Labour Party regional organiser job being advertised at least three or four years ago with a salary (Sinn Féin full-timers should look away now) of €50,000 – oh, and a car. Throw inflation on top of that and I reckon either job's going to be in and around a hundred grand. The people employed by the party of the labouring classes need to look well, doesn't one know?
Conor Ryan in the Examiner rightly points out that being general secretary of any party is a fairly thankless task. All of the problems and none of the glory, a magnet for dissatisfied party members. He concludes by pointing out that, for example, "sniping at Sinn Féin General Secretary Dawn Doyle is a safe way of getting at Gerry Adams..."
Sniping at Dawn Doyle safe? Perhaps Conor enjoys juggling live hand grenades while riverdancing across a minefield but if you ever decide to take a rifle and go after Dawn Doyle, young man, you'd best settle your affairs before you do so.



ON a serious note, and breaking with this column's generally cynical attitude to the Irish media, no harm giving praise where it's due.
Suzanne Breen of the Sunday Tribune might not be my cup of tea and she seems to find it hard to write without having a go at Sinn Féin but her decision not to hand over material obtained in the course of her work to the PSNI was both right and courageous.
The decision in her case was a substantial victory for our profession.
Praise also due to the unflappable Mary Fitzgerald of the Irish Times who is the only Irish journalist in Iran supplying vivid reports of the protests and the demonstrators after just coming back from a trip to war-torn Afghanistan with a series of articles that should be required reading for anyone attempting to understand what's going on over there.
Normal service will resume next week.

An Phoblacht Magazine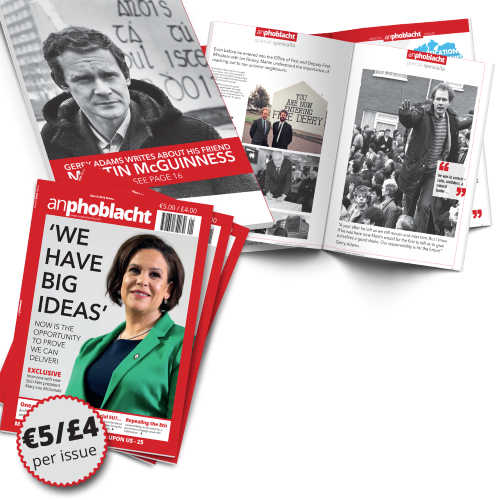 AN PHOBLACHT MAGAZINE:
The first edition of this new magazine will feature a 10 page special on the life and legacy of our leader Martin McGuinness to mark the first anniversary of his untimely passing.
It will include a personal reminiscence by Gerry Adams and contributions from the McGuinness family.
There will also be an exclusive interview with our new Uachtarán Mary Lou McDonald.
test