4 June 2009 Edition
Mac Lochlainn challenges Harkin and Gallagher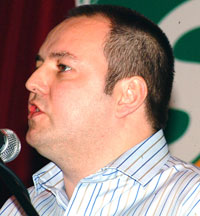 INDEPENDENT MEP Marian Harkin should come clean over her European voting record, according to Sinn Féin North and West EU candidate, Councillor Pádraig Mac Lochlainn.
"Marian Harkin portrays herself as a strong, independent voice in Europe, an advocate of healthcare investment and a defender of cancer services in Sligo and Castlebar Hospitals," Mac Lochlainn commented.
"However, her voting record in Europe shows that she is far from independent or in favour of healthcare for all.
"In fact, just recently, she joined with Fianna Fáil and Fine Gael to vote against the provision of free and equal access to healthcare. They also voted to restrict government options in terms of keeping open hospitals with a full range of services.
"In light of this record, Marian's support for Sligo and Castlebar seems rather hollow and I believe she should now come clean with her constituents and explain why she opposed the basic right to free and equal healthcare."
Gallagher 'running scared'
Meanwhile Mac Lochlainn has accused Fianna Fáil North West candidate Pat 'the Cope' Gallagher of running scared of debating the issues with him.
He reminded people that in the Dáil Gallagher supported the government's plans to criminalise fishermen, cuts in funding and support for farmers, the withdrawal of cancer services from Castlebar and Sligo Hospitals, and increasing tax on low-paid workers.
Mac Lochlainn has publicly challenged Gallagher to debate his government's failings. He has not come forward.
"He is running scared of Sinn Féin and running scared of the people's anger.
"This is a person who is asking us to trust him to defend Ireland's interests in Europe when he isn't even prepared to defend his own government's actions in Ireland", Mac Lochlainn said.