4 June 2009 Edition
'Turn Anger into Action': Dublin Local government manifesto launched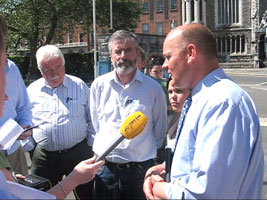 SINN FÉIN launched its local election manifesto for Dublin, Turning Anger into Positive Action, outside the Garden of Remembrance on Monday.
The launch was attended by Gerry Adams and deputy leader Mary Lou McDonald MEP with local election candidates Cllr Daithí Doolan, Cllr Larry O'Toole, Helen McCormack, Denise Mitchell, Ruadhán Mac Aodháin and Shaun Tracey, who is also running in the Dublin South by-election.
Daithí Doolan said an economic revival in Dublin will see the economy turn around in the rest of the country.
"The Sinn Féin manifesto for Dublin is focused on a jobs strategy for the county and a complete overhaul of local government. We fully believe that, if we can turn around the city, the rest of the country will follow.
"We have already taken the initiative by chairing a task force on jobs on Dublin City Council. Led by myself, this group involves FÁS, local employment services, trade unions and city businesses. It's concentrating on keeping people employed and growing new jobs in the city while providing training for those who have lost their jobs to ready them for the jobs of the future.
"We are taking the lead on this at council level and at state level, where we have launched a jobs document with 80 job saving and creation proposals designed to lift the economy."
The Dublin City councillor said that Sinn Féin wants to see a complete overhaul of local government.
"We do not want a window-dressing exercise. We made a lengthy submission on local government reform recently. We want actual changes – more power devolved to local authorities on waste management, traffic control and the local economy – and central funding to increase so that council managers don't target the public and business with punitive rates.
"We can turn this city around through the council but we need to elect hard-working councillors to do it. Sinn Féin has a proven track record when it comes to hard work and we are asking people to increase our mandate in the county so we can start to rebuild Dublin."