21 May 2009 Edition
Ferris suspended from Dáil for questioning raids on fishermen's homes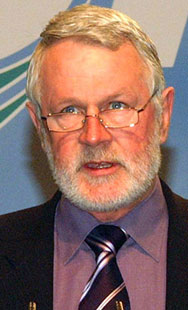 MARTIN FERRIS, Sinn Féin's Fisheries spokesperson, was ordered out of the Dáil on Tuesday when Justice Minister Dermot Ahern refused to answer questions about raids by the Sea Fisheries Protection Agency on fishermen's homes in west Cork.
The North Kerry TD said there were major questions to be answered regarding the manner in which the Sea Fisheries Protection Agency (SFPA) had carried out the raids.
The raids at Baltimore, Union Hall and Castletownbere were, according to the SFPA, in pursuit of log books. Deputy Ferris, though, himself a fisherman by profession, claimed that they were more akin to raids on criminals and that this type of heavy-handed action was facilitated by changes to the Criminal Justice Act which gave the SFPA those powers.
When Fianna Fáil Justice Minister Dermot Ahern stonewalled Ferris's questions, the Fisheries spokesperson persisted until he was ruled out of order by Fianna Fáil Kerry TD and Ceann Comhairle John O'Donoghue. The Ceann Comhairle then ordered Martin Ferris to leave the chamber, which he reluctantly did.
OTHER WAYS
 Deputy Ferris said:
"As I said at the time that the Act was amended, these powers effectively criminalise people who are attempting to earn a livelihood in difficult circumstances.
"There are other ways in which to monitor fish catch and quota. The manner in which Irish fishermen are treated also stands in sharp contrast to the perceived leniency and lack of attention devoted to fishermen from other countries fishing, often illegally, in Irish waters."