21 May 2009 Edition
Omagh bombing - RUC refused to testify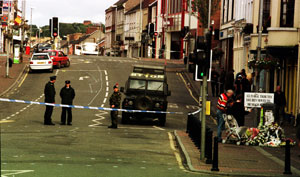 BY LAURA FRIEL
A MEMBER of the RUC investigating team and another Special Branch officer refused to co-operate with an inquiry concerning the 1998 Omagh bombing, a committee of Westminster MPs has heard from the inquiry chief, Sir Peter Gibson.
The inquiry was established after a BBC Panorama programme claimed that Britain's Government Communications Headquarters (GCHQ) - the Intelligence services' eavesdropping spy centre - had intercepted and was listening to mobile telephone conversations used to co-ordinate the attack by the bombers.
The programme-makers suggested the information could have been acted upon to thwart the bombing and save the lives of the 29 people subsequently killed, including a woman pregnant with twins.
Reporting to the MPs last week, Gibson said details from telephone intercepts had been passed on promptly and in accordance with proper procedures. However, this still fails to account for the fact that the information was never acted upon.
An inquiry into the investigation conducted by then Police Ombudsman Nuala O'Loan castigated the RUC and then Chief Constable Ronnie Flanagan for their failures.