14 May 2009 Edition
Oireachtas endorses Sinn Féin report on farming and fishing in west
The Oireachtas All Party Committee on Agriculture, Fisheries and Food this week endorsed a report by Sinn Féin TD Martin Ferris on the Future of Farming and Fishing in the West of Ireland. The report calls for the reversal of all government budget cutbacks in the agriculture sector and complete reform of the Common Fisheries Policy.
Martin Ferris travelled the length of the West Coast to carry out an extensive survey of farmers and fishermen and received hundreds of submissions from interested parties. The report will now be sent to the cabinet with a call from the committee for a full Dáil debate.
Some of the report's findings are truly shocking – for instance the inequality present in the allocation of the Single Farm Payments shows that 60% of farmers in the west believe their situation has got worse since the introduction of the Single Farm Payment.
The report also shows that jobs and the economy are major issues facing rural Ireland. This must be addressed by the Government with the introduction of a job retention and creation package.
Submissions made during the report's compilation show that the fishing quota system is systematically unfair and that there is an overwhelming demand for fundamental reform of the Common Fisheries Policy.
The report also shows that the farming community believes that there are many ways out of the current crisis. This will require a greater emphasis on LEADER projects for rural job creation for example. But the overwhelming response received from farming and fishing communities up and down the west coast is that the government must reverse its budget cuts.
An Phoblacht Magazine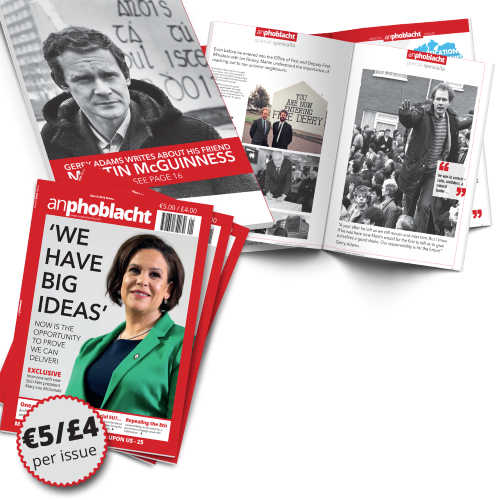 AN PHOBLACHT MAGAZINE:
The first edition of this new magazine will feature a 10 page special on the life and legacy of our leader Martin McGuinness to mark the first anniversary of his untimely passing.
It will include a personal reminiscence by Gerry Adams and contributions from the McGuinness family.
There will also be an exclusive interview with our new Uachtarán Mary Lou McDonald.
test