23 April 2009 Edition
Shaun Tracey to contest Dublin South by-election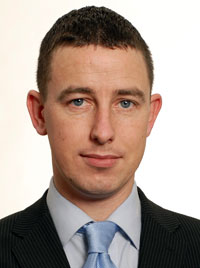 SINN FÉIN has selected Shaun Tracey to contest the South Dublin by-election. At the same selection convention this week Sinn Féin announced that the party will, for the first time ever, contest  all four local election wards in the South Dublin constituency.
Shaun Tracey said this is a reflection of the growth of the party in the constituency  over  the  last  number of years and that Sinn Féin is now poised to make a breakthrough in South Dublin:
 "The growth of Sinn Féin in this constituency over the past  couple  of  years  is  reflected  in the fact that we are now in a position  to  contest all four local election wards in the constituency. This  will  give  us  a huge boost in both the European election and the South  Dublin by-election and I believe that the party is poised to make a breakthrough at local Government level in this constituency", Tracey said.
He added that Sinn Féin offers  the  people  of  Dublin  South  a  real  alternative  to the conservative  politics  that  have led the state into economic recession and an unemployment  crisis  of  record  levels.
"The  economic  crisis  can  be  turned around but not without a radical change  of  politics  in  this state. The political approach that led us into recession will not lead us out of it again", he said.