5 March 2009 Edition
Sinn Féin National Councillors' Forum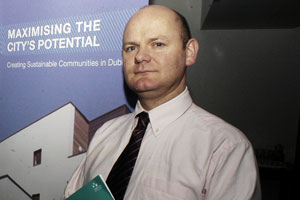 The coalface of day-to-day politics
DAITHÍ DOOLAN is the chair of the Sinn Féin National Councillors' Forum and Councillor Seán McPeake from Derry is the vice-chair.
"We two work closely together and that helps ensure a cross-border focus," Daithí says. "Our officer board also includes a secretary and two Ard Chomhairle representatives.
"It was considered imperative to establish a forum specifically for councillors as we're the largest group of Sinn Féin elected representatives throughout the 32 Counties.
"We're at the coalface of day-to-day politics. It was the issues facing councillors that tended to dominate the agenda. These are issues like local government reform in the Six Counties, funding and financing local authorities. There's housing demand and looking at policy issues around our position how to best serve the people we represent while also upholding policy – our position on service charges, bin charges and the like.
"I think if we're to continue making advances we need clear direction and leadership at local authority level."
Two specific jobs of work undertaken by the Forum are reform in 26-County local government and the Reform of Public Administration (RPA) in the Six Counties.
All this shows that, for the first time, on a 32-County basis, you have an opportunity to reform local government
– Cllr Daithí Doolan


"The RPA is specifically in relation to the Six Counties. The aim is to totally dismantle Six-County local authorities and rebuild them.
"The RPA has huge potential for Sinn Féin because we're in there at every level, ensuring that an 'Ireland of Equals' will be central to any reform of the local authority system in the Six Counties.
"We could eventually end up with a situation where the Six-County system is far more progressive than that of the 26 Counties.
"Part of our job in the Forum is to ensure that positive experience and best practice is imported into the Six Counties and any potential good practice in the Six Counties is imported to the 26 so that we'd have a truly all-Ireland approach to local government.
"We have the experience here in the South that they don't have in the Six Counties because of the total abuse of power by unionists. Local government in the Six Counties was the bastion of unionism from 1922 right up until today and now we have the opportunity to pull it down and rebuild it. The RPA is the process of creating these reforms in local government."

In the area of 26-County local government, the Forum has again been active.
Environment, Heritage and Local Government Minister John Gormley has issued an invitation to various bodies and the public to get involved in evaluating how to create reforms.
"He's talking about reforming town councils, city councils – it's basically about reviewing the make-up of councils and how they function.
"There's proposals for creating a directly-elected mayor of Dublin in 2011 – elected by the people – but we must ensure that the mayor would be a kind of a Ken Livingstone for Dublin who would be held to account.
"At the moment, there's four regional mayors for Dublin but for the first time we will have  a mayor elected by the public – it will be a political position."
The Forum made a submission to the Government Green Paper on Local Government Reform to the Department of the Environment, Heritage and Local Government.
"We made a formal submission and participated in seminars. All this shows that, for the first time, on a 32-County basis, you have an opportunity to reform local government."
The Sinn Féin councillors' submission advocated devolving powers from central to local government, and proper waste management based on recycling and reducing waste rather than opting for the 'super dumps' model.
The Forum may be just two years old but its putting the structures and practices in place to offer valuable supports to re-elected and new Sinn Féin councillors in the coming months.
"We strive to ensure that there's equal representation across urban, rural and gender sectors," Daithí Doolan says. "What we're also trying to do now is put in place best practice so that in the post-June scenario the new raft of councillors will identify with the Forum and claim it as their own."
How does Daithí Doolan's job as chairperson work?
"I manage to link with people on a day-to-day basis and I enjoy working around issues to do with policy and communicate with other councillors to get feedback from across the country and particularly on the RPA.
"I've gone to Stormont on that issue to ensure there was truly an all-Ireland dimension and I thoroughly enjoyed it.
"Unfortunately, because of poor infrastructure in some parts of Ireland, the meetings all tend to happen in Dublin but we still get a good attendance from throughout the country."

In this climate of slash and burn politics it will be difficult to meet every election promise so we must be demanding of central government 
Emphasising the need for the party to support its councillors, Doolan says:
"As we look to the local government elections, the National Councillors' Forum must ensure we are there post-election in June to work with and provide support for the newly- elected (and not so newly-elected) councillors.
"We need to have a very clear vision of where we want to take local government in Ireland. We have a unique opportunity to do that right now: RPA in the North and increased influence in the South.
"In this climate of slash and burn politics it will be difficult to meet every election promise so we must be demanding of central government and imaginative and radical on how we raise funds to provide public service at local level."