29 January 2009 Edition
Candidates selected for Mid Monaghan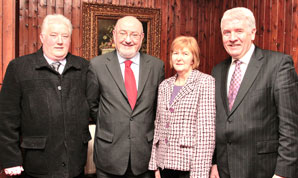 At the third of its County Monaghan election conventions last week Sinn Féin selected its team to contest the June local elections for Castleblayney and Ballybay Town Councils and the Mid-Monaghan electoral area of the County Council.
The candidates were chosen at a well attended gathering in the Hope Castle on Thursday evening, 22 January that was chaired by the Sinn Féin Dáil leader, Caoimhghín Ó Caoláin TD.
Councillor Jackie Crowe will again be the standard bearer for Sinn Féin in the Mid-Monaghan area.
Mayor of Castleblaney Mariea Kelly and councillors Jackie Crowe and James Cunningham will run for Castleblaney Town Council.
In Ballybay, outgoing councillors Gene Duffy and Barry Cunningham will run for the Town Council.
Following his selection Jackie Crowe urged Sinn Féin members and supporters not to take the gains since 1994 for granted. Crowe said he had seen at first hand on Monaghan County Council that there was little difference between the other parties. Only Sinn Féin was intent on providing a real opposition to the stale politics that they represented.
Mayor of Castleblayney, Mariea Kelly said that she had learnt a lot since she was elected onto the Town Council in 2004.  She hoped that the people of Castleblayney would give her the honour of continuing her role in this year's elections.
Councillor James Cunningham said he looked forward to the campaign as it was clear that the Sinn Féin message of radical change was becoming more and more popular.
Gene Duffy said Ballybay had suffered greatly over many decades as a result of the underinvestment by successive Fianna Fáil and Fine Gael led governments. He had highlighted this time and time again and would continue to do so if re-elected in June.  He also said that if he was returned as a councillor he would endeavour to ensure that the east-west road network benefited the Mid-Monaghan town.
Councillor Barry Cunningham thanked everyone for the support given to him and his family following the recent death of his mother.  
Closing the convention Caoimhghín Ó Caoláin TD said that Sinn Féin would be bringing its message of real radical change to every doorstep in the Mid-Monaghan area.  He encouraged anybody who wished to support the party in the run-up to the local and EU elections in June to contact any party member.
• Ballybay Town Councillors Barry Cunningham and Gene Duffy and Mid-Monaghan County Councillor Jackie Crowe share a joke at the selection convention