15 January 2009 Edition
Now government targets public service workers
FIRST it was the elderly and their medical cards, students attempting to access third level education, and the lowest paid workers in the 26 Counties targeted by the 1% levy. Now indications from the Irish Government are that it fully intends to target low and middle-income public servants. Such workers it seems are to face pay cuts and possibly job cuts as part of the government's ongoing ham-fisted response to the current economic crisis.
The government's approach is both reckless and irresponsible. Teachers, nurses, gardaí, firefighters and many thousands of workers across the public sector carry out the type of jobs, often under extremely difficult circumstances, which are vital for a decent society to function. These workers are involved in the frontline services without which community cohesion would not be possible.
And if this was not bad enough it is also being suggested that the allowance for carers be cut aswell.
While everyone is aware of the deepening crisis in public finances, it is simplistic and irresponsible of the government to put all of the blame at the feet of state employees.
It was not public sector workers, but the Fianna Fáil-led Government which made the economic policy decisions in recent years, particularly an over-reliance on the construction sector, that left Ireland much more exposed to the global economic recession than it should have been.
Despite claims of a 'bloated public sector', the reality is that Ireland's public sector workforce is smaller than most OECD Countries.
The Government's sole focus on the public service is damaging chances of an economic recovery. We are still waiting on a properly costed economic stimulus package and job creation strategy to come from Government Buildings. The 26 Counties is one of the last states in the EU to do this.
Government spokespersons appear to be preparing the ground for an assault, not on high earning public sector employees, but on those who can least afford to take cuts. It is hypocritical of the government to ask these workers to tighten their belts when hospital consultants enjoy a salary of €250,000 for a 33-hour week. Irish hospital consultants with their 'job for life contract' and unprecedented autonomy are earning more than any other medical consultants in the world.
What is particularly nauseating about the government's scapegoating of public service workers is its main cheerleaders are those economists and commentators whose political and economic philosophy are what caused the current economic crisis in the first place.
An Phoblacht Magazine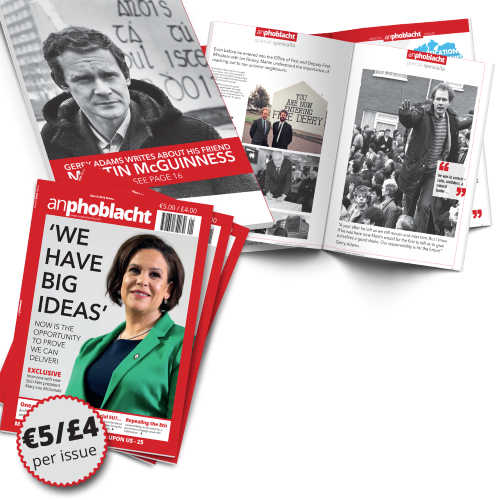 AN PHOBLACHT MAGAZINE:
The first edition of this new magazine will feature a 10 page special on the life and legacy of our leader Martin McGuinness to mark the first anniversary of his untimely passing.
It will include a personal reminiscence by Gerry Adams and contributions from the McGuinness family.
There will also be an exclusive interview with our new Uachtarán Mary Lou McDonald.
test