18 December 2008 Edition
Lisbon - Council Conclusions do not give credible guarantees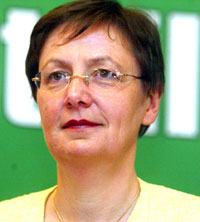 The way that the Irish 'No' vote has been dealt with "is not creating goodwill", Sinn Féin MEP Bairbre de Brún (left) has told the EU Parliament and she warned that "it could even fuel opposition to the EU".
Speaking in the Parliament this week de Brún said that "the gap between EU leaders and citizens has been deepened by the response to 'No' votes in Ireland and elsewhere."
She pointed out that the European Council had refused to make the slightest change to the Lisbon Treaty and people in Ireland were merely to be given some reassuring words and told they should change their minds.
She said the Council Conclusions do not provide credible guarantees where they are needed. They fail to deliver positive reasons for voting in favour of the Lisbon Treaty.
"Instead there is now an attempt to confuse a number of issues and to give full reign to fear and misinformation in a rerun of the referendum", she said.