11 December 2008 Edition
More than a game BY MATT TREACY
Crokes success to affect county football and hurling teams?
RHODE is possibly best known for having been the home place of Paddy 'The Iron Man' McCormack. Paddy was full back on the first Offaly team to win an All Ireland, in 1971, and on the 1972 side. His career was brought to an end by an injury to his eye. 'Teak tough' might be one description you could apply to him although those who saw him or played against him might have described him differently.
Mind you he remains a popular chap who has a pub in Tullamore – much frequented by Dubs on their peregrinations to and from midlands venues – and still trains greyhounds. He came to mind last Sunday as I watched Rhode take on Kilmacud Crokes in the Leinster club football final. While the Iron Man would have been pleased I imagine by the Offaly team's performance in the first half I would say that he was less than impressed by goalkeeper Colm Masterson's reaction to the ball that came his way in the second half, followed closely by Mark Davoren, that found its way to the net.
That second goal sealed what at half time seemed an unlikely comeback by the Dublin champions who were six points behind and a man down after the sending off of Cian O'Sullivan. Some have considered Crokes to be a trifle lucky this year and they might well have been beaten in Dublin by Plunketts. They have survived, however, seem more battle hardened and resilient and their semi-final with Corofin will be interesting.
The downside for Dubs not particularly over-the-moon with Crokes in the first place - and they are legion - is that their involvement after Christmas will affect both the county football team, with the non-availability of Griffin and Vaughan, and more importantly the hurlers who will have to do without Ross O'Carroll, who despite the rumours is entirely unrelated to his near namesake and fellow southsider Ross O'Carroll Kelly. Roysh?
Mind you, Paul Griffin's roasting at the hands and feet of Niall McNamee in the first half will not have done anything to ease Pat Gilroy's problems about his full back line. It is not an issue that is going to go away nor one which judging by the likely candidates on display during the county championship is going to be resolved any time soon.
There are a number of players currently playing as defenders but not with the Number Three jersey on their back who could possibly make that transition but Dublin do not have much luxury to experiment. Especially after agreeing to another floodlit Croke Park encounter with Tyrone which places the new regime under immediate pressure to produce the goods.
Finally congratulations to the Joey's on winning their first Dublin football league in over 20 years. With some of the same players believe it or not! And bringing to a close a successful year at various levels with the exception of the tragic defeat in the hurling final. 

An Phoblacht Magazine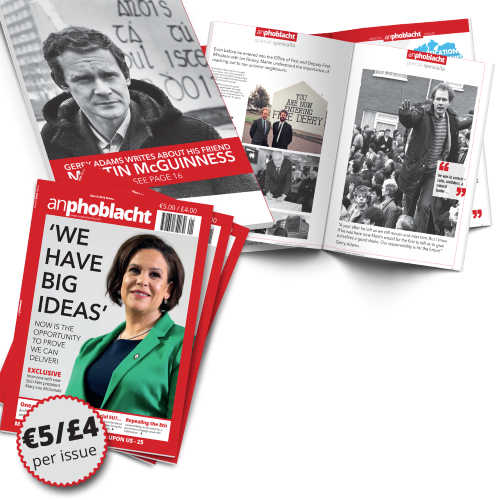 AN PHOBLACHT MAGAZINE:
The first edition of this new magazine will feature a 10 page special on the life and legacy of our leader Martin McGuinness to mark the first anniversary of his untimely passing.
It will include a personal reminiscence by Gerry Adams and contributions from the McGuinness family.
There will also be an exclusive interview with our new Uachtarán Mary Lou McDonald.
test