4 December 2008 Edition
International : Native American activist 33 years in jail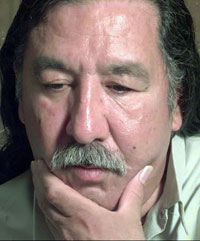 THE election that saw 'people power' sweep Barack Obama to the White House and become the new president of the United States has given many of those who have suffered injustice new hope for the future, and none more so than Leonard Peltier.
Peltier was an activist in the American Indian Movement who had gone to help the Oglala Lakota people on the Pine Ridge Reservation in June 1975 when a shoot-out occurred with FBI agents. Accused of the murder of two agents, Peltier fled to Canada, believing he would never receive a fair trial in the US.
In February 1976, he was arrested in Canada and returned to the US. In a trial no less controversial than the events in which two FBI agents lost their lives, Peltier was convicted and sentenced to two consecutive life terms.
Amnesty International has said: "Although he has not been adopted as a prisoner of conscience, there is concern about the fairness of the proceedings leading to his conviction and it is believed that political factors may have influenced the way the case was prosecuted."
Nelson Mandela and the Dalai Lama have voiced their concern about the case, as have Coretta Scott King, Desmond Tutu and Mary Robinson.
Robert Redford and Michael Apted produced a  documentary (1991) about Peltier, Incident at Oglala.
This year, celebrities who signed a petition asking for clemency for Peltier included Barbara Streisand, Giorgio Armani, Calvin Klein, Yves Saint Laurent, Naomi Campbell, Kate Moss, Yoko Ono Lennon, Bryan Adams, Bono, Cher, Phil Collins, Kylie Minogue, Peter Gabriel, Bianca Jagger, Elton John, Kris Kristofferson, Annie Lennox, Madonna, Ozzy Osbourne, Sting, Dustin Hoffman, Jeremy Irons, Jude Law, Helen Mirren, Gwyneth Paltrow, Tim Robbins, Susan Sarandon, Kevin Spacey, Joan Collins, Oliver Stone and Raquel Welch.
Now aged 64, Leonard sat down in his prison cell in the US penitentiary in Lewisburg, Pennsylvania, and wrote a letter to his family, friends and supporters the day after Barack Obama's election. We print an edited version here.
Leonard Peltier – New hope for justice
My Relatives and Friends,
Last night, a change in this country took place that not too long ago many people said would never happen. An African-American was elected to the White House and by a major landslide, which gives him a mandate by the public to fulfil his promises. This landslide indicates the people have placed their hope with this man they call their president for a change in this country.
I've been misled and disappointed so many times that I would soon see justice and to have it denied upon a technicality in legal appeals.
I began to feel the weight and pressure of a lifetime, being unjustly imprisoned began to crowd me into a corner of my cell and then in my mind. But it was this thing that has been our battle cry for so many years, "In the Spirit of Crazy Horse."
It is a strength that we stand upon when we are right. We were right to be in Oglala and we were right to be prepared to defend ourselves. What wasn't right is that a jury never got to hear any of this testimony and the rest of the trial was a product of the fabrication and then manipulation of the FBI.
Now people seem to feel there is a change blowing in the wind and that the election of Obama is a manifestation of that change. I sincerely hope so because I am now 64 years old and coming up on my 33rd year of being confined and fighting for justice and my freedom.
Obama may be my last chance at securing my freedom.
If there is one thing I learned from earlier campaigns on my clemency is that he won't just be able to do it by himself. He is going to need your support in the form of public opinion on the case.
My case has to be a national issue on justice denied. It may sound easy but it isn't. The FBI has been an opposing force in attempting to discredit my cause and that of native people since they focused their attention on the American Indian Movement in the 1970s.
When it appeared that [President Bill] Clinton might actually grant clemency, the agents went and demonstrated at the White House and utilised their resources to create doubt in the mind of Clinton.
It is another hope that with a whole generation of people who were born after my wrongful conviction that there will be a renewed source of energy and actions.
One point that I would like everyone to focus on right now is a '30-year law' [in prison guidelines] regarding my sentence and parole.
I've served more than 30 years of this sentence and have been considered a model prisoner. And the likelihood of committing any crimes is non-existent due to my age and the humanitarian work I've pursued to help my people since my incarceration. According to this law, they have to grant me a parole to my next sentence.

Leonard then refers to rebuilding his support groups' network "necessary due to a breakdown with the former Leonard Peltier Defence Committee". While his family tries to resolve this issue, he urges supporters "to keep moving with the campaign".
He continues:

Some of the projects we have discussed are conducting rides, walks, runs and events across the country to create this awareness of my case. We are initiating efforts to ask bands and artists to host fund-raisers in their areas.
I also understand that some of us have personality issues with other people. I hope that many of you can pray or find a way to rise above this obstacle and work together for one common purpose.
I would like to see so many of my supporters come together in a show of solidarity. If there really is a change in the air, we will need each other to bring about change in so many other areas.
For me it has been about our culture and right to be who we are but, foremost, it has been the children and the next generation.
We were supposed to leave a better world behind for them and how much have we accomplished?
I know that somehow and some way my sacrifice will not be in vain and that the years I've endured this pain of loneliness and suffering in confinement will make a better world for those children and coming generations.
That, along with my freedom, is my hope, but I will not be able to fulfil it without you. So take a few minutes and educate yourself on the injustices of my case. It may shock and outrage you but you can do something about it, so join us.
In the Spirit of Crazy Horse,

Leonard Peltier
BELFAST: Mural in support of Peltier
An Phoblacht Magazine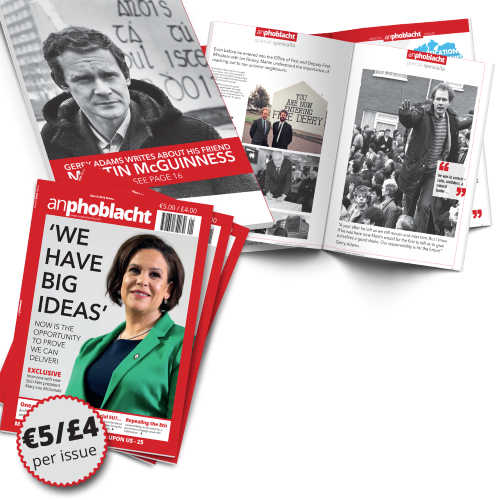 AN PHOBLACHT MAGAZINE:
The first edition of this new magazine will feature a 10 page special on the life and legacy of our leader Martin McGuinness to mark the first anniversary of his untimely passing.
It will include a personal reminiscence by Gerry Adams and contributions from the McGuinness family.
There will also be an exclusive interview with our new Uachtarán Mary Lou McDonald.
test