9 October 2008 Edition
Fifth Column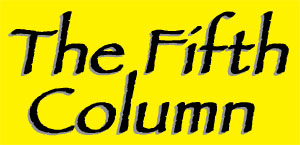 How Clean is Your MI6 House?
THE MI6 past of Aggie McKenzie (above right), the Scottish co-presenter of Channel 4's How Clean is Your House, is no secret to Fifth Column readers but Aggie has further revealed that she left Britain's Secret Intelligence Service because of its dirty tricks in Ireland.
Aggie tells the new Scottish Gaelic TV channel, BBC Alba, that she had ideas of being a Miss Moneypenny when she started her first day on 15 September 1975.
"There were five or six of us. We were taken to this room and given a talk and the man said, 'This isn't the Foreign Office, this is MI6, otherwise known as the Secret Intelligence Service. We want you to work here but if you feel uncomfortable from a moral or religious point of view then you need to think about this.'"
Aggie lasted with MI6 for two years. But she wasn't a Miss Moneypenny offering secretarial support to some debonair playboy.
"I was working in a much more operational branch of MI6, working alongside MI5 and other sections doing Northern Irish stuff. It seems like fantasy now.
"I was seeing things I really didn't want to see."
Really, Aggie?
Which "other sections" did you work with? And exactly what things did you see that you'd rather you hadn't?
It's time to come clean and dish the dirt, Aggie.


Not nice neighbours
THE DUP needs to sort its house out too because many of its members, from the top table down to councillors, can't get their heads around treating nationalists with respect if a 'cross-community good neighbours' trip to Dublin is anything to go by.
Ballymoney Councillor Ian Stevenson was one of a number of public representatives who travelled to historic places south of the border. The trip was part of a programme organised by Derry City Council to give unionists and nationalists the chance to experience and maybe understand each other's cultural identity.
The councillors took in the Battle of the Boyne site and Glasnevin Cemetery before heading to Kilmainham Jail, where the leaders of the 1916 Easter Rising were executed. Kilmainham would be revered by Irish nationalists and republicans in the same way as unionists would the Somme.
When the delegation left, they signed the visitors' book. DUP Councillor Ian Stevenson, a registered nurse, wrote:
"Very good. Feel these people got what they deserved. They weren't saints."
Now supposing a Shinner had written that about those who gave their lives at the Somme.


Show me the funny money
OVER in Leinster House, during the bankers' bail-out debate, Labour's Pat Rabbitte was venting about how the banks might abuse the money supply.
"Now that they are underpinned by the state," Pat intoned in all seriousness, "I cannot see anything that will prevent banks acting as banks and taking decisions which we will be sorry for in the future."
To which Fianna Fáil's Micheál Martin riposted:
"Deputy Pat Rabbitte's party could print its own money anyway."
How unfair. Labour never printed dud fivers.
What Martin might have been alluding to was when Brother Rabbitte and Labour leader Eamon Gilmore were in the Workers' Party leadership in the 1980s and known as 'The Student Princes'. Then the WP had its own way of solving its credit crunch and cash flow problems with the aid of some East German hi-tech know-how and a very good printing press.
Of course, The Student Princes and Proinsias de Rossa knew nothing about the funny money.


Caught by the Balubas
ONE Labour figure who isn't afraid to claim a war record is Councillor Mick Dollard, Cathaoirleach of Mullingar Town Council.
Mick was parading around town with a war service medal from the Congo – where 26 soldiers lost their lives in 1960 with the UN – when someone with military intelligence sussed that the Westmeath warrior was never in the Congo, much less battling with Baluba tribesmen. Dollard was a soldier in the Defence Forces but he was in Cyprus, where the only battle he faced was with sunburn.
The military decoration was his dad's and, as all old soldiers know, could have been worn as a mark of respect on the left side of his Organisation of National Ex-Servicemen's uniform but Mick wore it as his own on the right.
Mick is now staging a rearguard action and refusing to surrender his position as cathaoirleach in the face of stiff enemy attacks.
The man deserves a medal.


Sensitive flowers of Scotland
DRAMA in Coronation Street over shady Scottish businessman Tony Gordon's close encounter in a hotel bedroom with a scantily-clad teenage siren Rosie Webster, his PA.
Sleazy Tony made his excuses and left but when it was suggested that the king of the Underworld knicker factory might have more than a professional interest in his ditzy secretary, he replied: "I could no more be interested in Rosie Webster than I could support Glasgow Rangers."
The phones started hopping at ITV. The station said "dozens" of those sensitive souls at Ibrox – whose fans had rioted in May in Manchester, where Corrie is filmed – jammed the switchboard to insist that they were mortally offended by the jibe. How could Rangers' reputation be sullied in such a way?
Corrie scriptwriters have consequently been ordered to Tippex out a line by the hard-nosed mini-tycoon that he is allergic to "warm beer, the English national anthem and Glasgow Rangers" so as not to upset the poor little Gers.
I'm getting to like Tony Gordon more every day.

An Phoblacht Magazine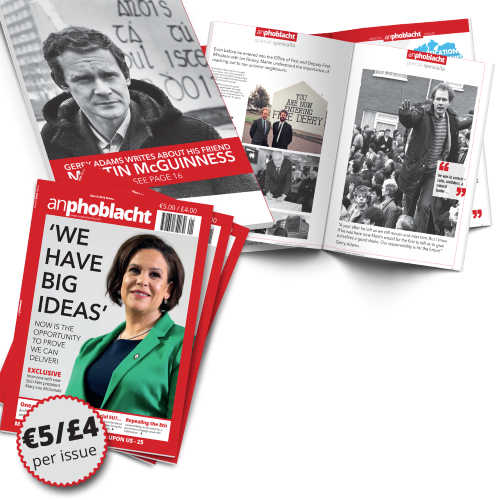 AN PHOBLACHT MAGAZINE:
The first edition of this new magazine will feature a 10 page special on the life and legacy of our leader Martin McGuinness to mark the first anniversary of his untimely passing.
It will include a personal reminiscence by Gerry Adams and contributions from the McGuinness family.
There will also be an exclusive interview with our new Uachtarán Mary Lou McDonald.
test