9 October 2008 Edition
Remembering the Past: 'Unofficial' executions of the Civil War

By Mícheál Mac Donncha

DURING the Civil War period June 1922 to May 1923, the Free State Government executed 77 republican prisoners of war. But in addition to these it is estimated that well over 100 republicans were 'unofficially' executed by the Free State Army and by the notorious Criminal Investigation Department (CID) based at Oriel House in Dublin.
The first such killing was that of Harry Boland TD. He was a close friend of Michael Collins and, like him, a senior figure in the Irish Republican Brotherhood. But when Collins used the IRB to help push through the 1921 Treaty, Boland broke with him.
In contrast to the fictionalised portrayal in Neil Jordan's Collins filmography, Boland was shot in a hotel in Skerries by Free State troops and died on 1 August 1922.
Thirty republicans were killed in similar fashion during the months of August and September 1922. These included Fianna Éireann members Seán Cole and Alf Colley and IRA Volunteer Bernard Daly, who were killed by 'persons unknown' on 26 August. The executioners were members of the CID, which soon became known as 'The Oriel House Gang'. The executions followed a similar pattern, especially in Dublin, where the victims were arrested in the city and taken to quiet country roads where they were shot and their bodies left for discovery.

BALLYSEEDY
Six Volunteers were executed after capture on Ben Bulben in County Sligo on 20 September. One of them was a son of Free State Cabinet Minister Eoin MacNeill. The executions continued through 1922 and well into 1923.
The most notorious of all were those which took place in County Kerry during February and March 1923, including the Volunteers tied to a mine at Ballyseedy and blown to pieces. The full extent of repression throughout that County is described in Dorothy Macardle's classic account, Tragedies of Kerry.
The funerals of executed republicans were refused entry to many Catholic churches. This was the fate of UCD student and IRA officer Robert Bondfield, who was actually arrested in Dublin while visiting church on Holy Thursday 1923. He was taken to Clondalkin and shot dead by the Oriel House Gang on 29 March. Priests refused to allow his body into the Church of the Holy Name, Ranelagh.
One of the last 'unofficial' executions was that of Noel Lemass (a brother of Seán, who was later Taoiseach). Arrested in July 1923, his body was not found until October. The autopsy showed he had been shot three times in the head and had a broken jaw and a broken arm. The Sinn Féin Ard Fheis on 16 October adjourned for his funeral.
The body of Noel Lemass was discovered on Cruach ('The Featherbed') Mountain, County Dublin on 12 October 1923, 85 years ago this week.
An Phoblacht Magazine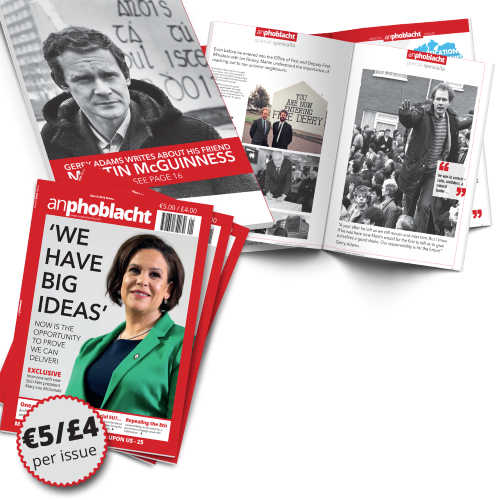 AN PHOBLACHT MAGAZINE:
The first edition of this new magazine will feature a 10 page special on the life and legacy of our leader Martin McGuinness to mark the first anniversary of his untimely passing.
It will include a personal reminiscence by Gerry Adams and contributions from the McGuinness family.
There will also be an exclusive interview with our new Uachtarán Mary Lou McDonald.
test