9 October 2008 Edition
Job creation and enterprise must be focus of Budget 2009
MUCH of the discussion in the lead-up to Budget 2009 in the 26 Counties has centred short-sightedly on the need for cuts to public spending and a stimulus package for the plummeting property market.
Sinn Féin believes that the crucial area of job creation and enterprise has been overlooked as the main means of rebuilding our struggling economy.
With unemployment at its highest levels in a decade and likely to increase next year, the Government's options for raising revenue will continue to be seriously curtailed unless a strategy can be put in place to put more people in employment, thereby increasing direct revenue returns and lessening the drain on public resources through social welfare.
Sinn Féin has also highlighted the state's under-performing indigenous export market. A report published by Forfás (the Annual Business Survey of Economic Impact) in 2006 showed that foreign owned firms based here were responsible for 90.2% of exports from Ireland that year. This included manufacturing and internationally traded services and amounted to €96.4 billion. Total exports of Irish-owned manufacturing and internationally traded services firms only amounted to €10.5bn. This is an area crying out for Government intervention and stimulation.
There are a number of initiatives the Government can take to support the export market and stimulate jobs in the manufacturing sector, including helping Irish producers to access export markets outside the US and Britain, with language and local regulation supports; increasing the use of Irish embassies to access local market knowledge and management personnel; and increasing training of sales personnel with a mix of industry background and technical knowledge.
Budget 2009 must include measures to promote job creation and enterprise. The package presented to the Dáil cannot simply be a draconian exercise in cost cutting that ultimately will result in a further slowing of the economy whilst hitting those most vulnerable hardest.
An Phoblacht Magazine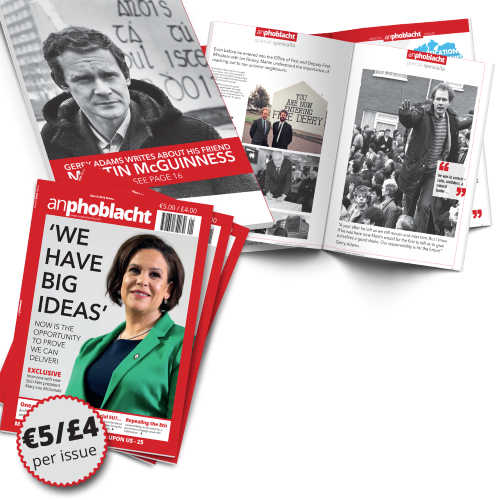 AN PHOBLACHT MAGAZINE:
The first edition of this new magazine will feature a 10 page special on the life and legacy of our leader Martin McGuinness to mark the first anniversary of his untimely passing.
It will include a personal reminiscence by Gerry Adams and contributions from the McGuinness family.
There will also be an exclusive interview with our new Uachtarán Mary Lou McDonald.
test