25 September 2008 Edition
They mess up the economy - we pay the price
THIS WEEK, An Phoblacht highlights the scandalous situation for tenants in  Dublin City Council housing estates who have been waiting for years for long-promised and sorely needed refurbishment and redevelopment
(see pages Housing article)
.
After living in near-slum conditions these tenants were promised a complete transformation. Under Government policy it was to be done through a Public-Private Partnership (PPP) between the council and McNamara Construction. But as soon as the economic downturn hit, McNamara pulled out and the tenants have been left high and dry.
This is surely a classic symptom of what is now happening in the Irish economy. Those who were at the end of the queue during the Celtic Tiger years finally reached the pay hatch only to have the shutter slammed down in their faces and the 'Closed' notice put up.
Instead of funding the council to carry out the redevelopment in the first place, the Government pushed ahead with its futile PPP policy which is designed to give already wealthy developers a hefty share of public funding.
Likewise, overall Government policy rewarded speculators and developers and continued to inflate an already grossly inflated housing market. This made homes unaffordable for many families, saddled many others with huge mortgage debts and made a price slump inevitable.
Add to this the Government's complete over-reliance on the construction industry for employment creation and you have a recipe for economic recession. That recession is now upon us and the Fianna Fáil-led governments of the past decade are directly responsible.
Who is paying the price? Not the ministers and their friends, the speculators and the top executives, the 'great and the good' of Irish society who created this mess. It is ordinary people who are paying. Thousands are joining the dole queues. Public services are being cut back and people on low incomes are worst hit.
Yet Ireland is a wealthy country. The recession starkly highlights the failure to harness that wealth properly and to share it across our society. Sinn Féin has been making that argument cohesively and presenting the constructive alternatives. Now is the time to bring those arguments to people in a campaigning way, resisting cuts, demanding sustainable employment and insisting on decent and equitable public services.
An Phoblacht Magazine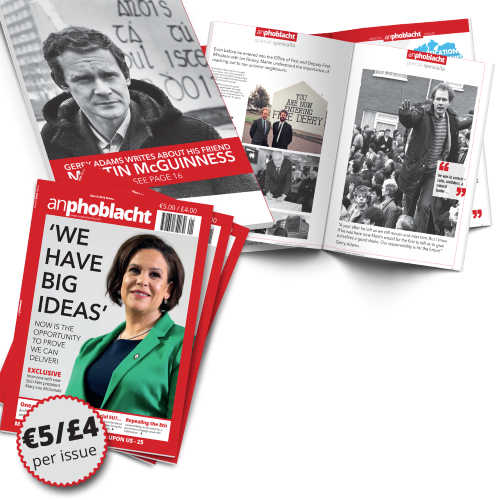 AN PHOBLACHT MAGAZINE:
The first edition of this new magazine will feature a 10 page special on the life and legacy of our leader Martin McGuinness to mark the first anniversary of his untimely passing.
It will include a personal reminiscence by Gerry Adams and contributions from the McGuinness family.
There will also be an exclusive interview with our new Uachtarán Mary Lou McDonald.
test