18 September 2008 Edition
Morrison demands answers over acquittal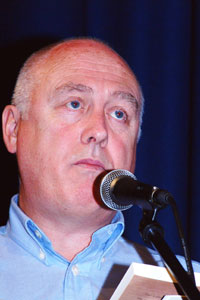 DANNY MORRISON, former Sinn Féin Director of Publicity and An Phoblacht editor, is demanding that the Criminal Cases Review Commission (CCRC) explain its reasons for acquitting him and six others of convictions for the 1990 abduction of RUC agent Sandy Lynch.
Morrison and his co-accused were told at a hearing in the Appeal Court in Belfast on Friday, 12 September, that their convictions would be quashed.
The Public Prosecution Service (PPS) told the court that new evidence surrounding the Lynch abduction means the convictions could no longer be regarded as safe.
However, neither the PPS nor the CCRC has disclosed this new evidence in open court, choosing instead to present the evidence to the Court of Appeal in a sealed envelope.
Reacting to the acquittal, Danny Morrison told the waiting media that the CCRC "is refusing to tell us what this new evidence is.
"I think it's only fair that they open that envelope. We are entitled to see what these documents say, provided they are not endangering anyone.
"We appeared in a trial during which all sorts of things were alleged. We were wrongly convicted in public and I think, given the new political dispensation, it is only fair that we are given the reasons for our original convictions.
"The court owes us that much."
SPECIAL BRANCH
Danny Morrison, the then Sinn Féin Director of Publicity, was arrested along with six others when the crown forces raided a house in west Belfast in February 1990.
They were charged with abducting Special Branch informer Sandy Lynch and in May 1991 they were found guilty.
Morrison and his co-accused have always argued they were preparing to bring Lynch to a news conference and expose the RUC over its policy of pressurising nationalists into becoming informers.
Earlier this year the CCRC, which investigates miscarriages of justice, referred the seven convictions to the Court of Appeal. The body refused to state its reasons for allowing the appeal, choosing instead to hand its evidence to the court in a sealed envelope.
It has since been disclosed that the PPS would now permit the appeal judges to read the CCRC's findings but won't allow them to disclose the details.
Reacting to this, Morrison's barrister, Charles Adair, said:
"The supposedly reliable evidence originally used to convict my client had been put into the public arena and it is now only proper that he be entitled to the same level of openness when his conviction was being quashed."