18 September 2008 Edition
Hired hacks and paid perjurers

HAS RTÉ 1 decided to take a leaf from TG4's book and pay more attention to Irish history? The autumn season got off to a good start with high-standard history programmes on RTÉ 1. The two-part series on Oliver Cromwell (presented by Mícheál Ó Siochrú) was excellent and used interviews with historians and dramatic reconstructions to tell of Cromwell's campaign of slaughter and conquest in Ireland. A testament to its worth is that it has greatly displeased Eoghan Harris. Writing in the Sunday Independent he's very worried that it might "further feed the kind of nationalist myth that has landed us with the Lisbon debacle"!
In his unending campaign against Irish nationalism, Harris even tries to deny Cromwell's well-documented massacres of civilians, including women and children and defeated combatants, in Drogheda and Wexford. His claim that the programme "did not sufficiently stress that Drogheda was basically a Protestant town" is completely false. Ó Siochrú pointed out that the officers in Drogheda included English royalists and that Cromwell saw the war in Ireland as both an extension of the English Civil War and a conquest of the rebellious Irish. And in the English Civil War both sides were Protestants, though of different shades. Cromwell was spurred on by religious fanaticism, English nationalism and the class interests of the emerging English middle class.
THE other programme that worried Harris was the documentary Where Were Your Ancestors During the Famine?, although he was less critical of this because he claimed it told us historical home truths that free us from nationalist myths.
Harris thinks it was a great blow against Irish nationalism that the programme showed up the role of the Catholic merchants and landlords who survived and in some cases prospered during the Great Hunger. Harris claims that nationalists deliberately ignore this so that they can blame the British Government and Protestants for the Great Hunger.
One of the oldest tricks in the book is to ascribe to your opponents positions they never had and then describe those positions as myths which must be knocked down. Harris is a supreme myth-maker in this sense. The person who most vehemently exposed the British Government's responsibility for the Great Hunger was John Mitchel, a Protestant. Many wealthy Catholics did indeed turn a blind eye. Many others tried to avert the tragedy but were powerless because they did not control the machinery of government, which was run from London.
But of course no fact can be let stand which might point to British Government responsibility for any injustice in Ireland, past or present. This is the Eoghan Harris who describes himself as "a Wolfe Tone republican" and who, let it never be forgotten, was given a Seanad seat and a handsome salary by Bertie Ahern and Fianna Fáil as a reward for services rendered.
TIME was when informers on Irish patriots would slink away and hide from the ignominy which they so richly deserved. Nowadays they have journalists who love to sensationalise their sordid little lives and highlight their pathetic plea for some kind of moral reward for their paid perjury.
Remember that other Sunday Independent journalist, Ruth Dudley Edwards, and her liaison with Kerry tout Seán O'Callaghan? That all ended in tears and a little larceny from Ruth's London flat (in some very suspicious circumstances), but Suzanne Breen of the Sunday Tribune has gone one better. This week the Tribune had a two-page spread featuring the heart-rending story of poor Raymond Gilmour of Derry and Martin McGartland of Belfast. They are fed up with the way their gallant services to the British Empire have been disregarded. "We've been thrown to the wolves," Gilmour bleats. "MI5 doesn't give a shit about us. We've outlived our usefulness."
Suzanne Breen tells us that Gilmour and McGartland have got together to form BASE (British Agents Seeking Equality). You couldn't make it up. Do they realise that 'base', as well as being a place from which military operations begin, is also a synonym for low, despicable and cowardly?
MY many fans must have been concerned to read, also in the Tribune, the secret report showing that Leinster House, my place of work in Sinn Féin, is falling down. This was the first that the staff in Leinster House heard of the report which states, in essence, that the older parts of the building are in danger of collapse.
Mind you, the comments in the report read more like a description of the Fianna Fáil/PD/Green Government with "frequent leaks from indeterminate sources" and "a long history of painting over cracks and fixing items incorrectly".
FINALLY, I have to commend The Ulster Scot, official publication of the Ulster-Scots Agency (Boord o Ulster-Scotch).
The August edition carried a page-long article by County Antrim historian and author David Hume giving an account of the life and death of United Irishman William Orr, who was hanged at Carrickfergus in October 1797.  Orr was convicted by a drunken jury and his execution spurred on the radical Presbyterians of Antrim and Down who rose in arms for Irish freedom in 1798. Their battle-cry was "Remember Orr!" Good to see that their descendants are remembering him again.
An Phoblacht Magazine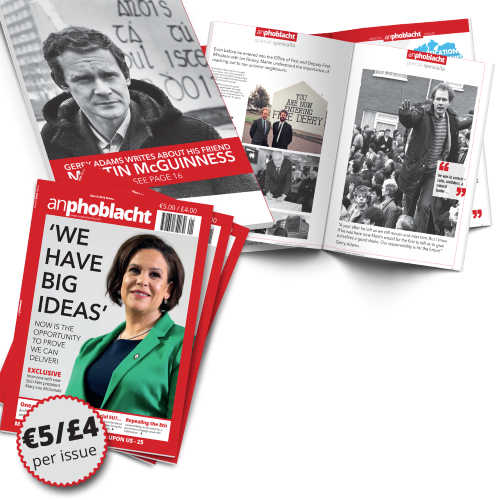 AN PHOBLACHT MAGAZINE:
The first edition of this new magazine will feature a 10 page special on the life and legacy of our leader Martin McGuinness to mark the first anniversary of his untimely passing.
It will include a personal reminiscence by Gerry Adams and contributions from the McGuinness family.
There will also be an exclusive interview with our new Uachtarán Mary Lou McDonald.
test