4 September 2008 Edition
Collusion questions need answers
THE collusion scandal during 2004 and 2005 detailed on Page 3 of this week's An Phoblacht leaves many questions which the Police Ombudsman must find answers to about British state forces' involvement with the UVF, UDA and other unionist paramilitaries.
How were supposedly secure intelligence files compiled by the British Army containing personal information about 400 people 'lost' from the top-security Castlereagh PSNI base?
When and how were the files reclassified as stolen?
Who were they stolen by - PSNI officers, Special Branch, British military, British Intelligence?
Which loyalist paramilitary groups were they given to?
Why was an entire Royal Irish Regiment unit - 28 soldiers - taken off duty during the investigation?
Why did no one in the PSNI - from the Chief Constable down - think of immediately warning the families of the 400 people who could have been murdered?
Why was there a 16-month delay in warning potential murder victims?
What information was NIO Security Minister Neil Pearson keeping back when he eventually confirmed to Sinn Féin that files were missing but would say nothing else?
And why has the Police Ombudsman failed to account for the full extent of the inadequacy of the PSNI handling of this scandal?
If people don't get answers then the Police Ombudsman is failing in its remit and unwittingly risks being seen as part of the cover-up.
An Phoblacht Magazine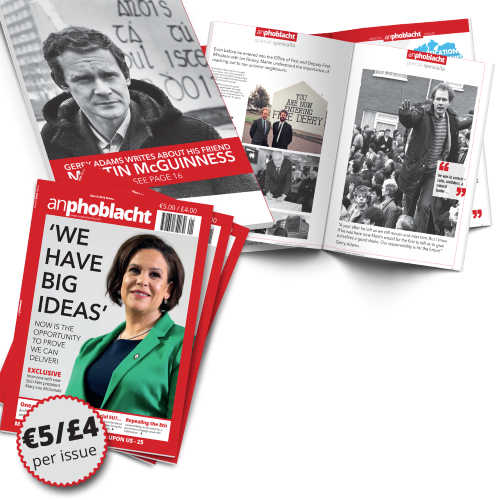 AN PHOBLACHT MAGAZINE:
The first edition of this new magazine will feature a 10 page special on the life and legacy of our leader Martin McGuinness to mark the first anniversary of his untimely passing.
It will include a personal reminiscence by Gerry Adams and contributions from the McGuinness family.
There will also be an exclusive interview with our new Uachtarán Mary Lou McDonald.
test