28 August 2008 Edition
Fifth Column
An offer he could refuse
AN PHOBLACHT'S piece on the 100th birthday of Joe Hughes, father of IRA Hunger Striker Francis Hughes, forgot to mention that Joe was being sent greetings not just from Martin McGuinness but from an unusual source - the British queen.
Someone at Buckingham Palace had the savvy to diplomatically contact staunch republican Joe beforehand to ask him if he would actually accept a birthday telegram from Queen Elizabeth, Commander-in-Chief of the British Army.
Joe's family say they "politely declined the offer". Joe's more of a gentleman than I would be.


Get smart
THE Belfast-based Midas Consultancy, run by former Orangeman James Dowson, is providing management and marketing 'expertise' to help the neo-Nazi British National Party spread its hate message.
One of the Simple Simons who attended a training course run by Dowson's outfit in February in Spain (yes: Spain, not Scunthorpe or Skegness) said:
"Some of the lessons are so simple that they're blindingly obvious but until you're taught by an expert you just don't see them. I was already working hard for the party but now I know how to 'work smart' as well."
Dowson said, "Why shouldn't I work with them? I don't think their members are involved in any criminal activity," which shows that whatever else he claims to be an expert in, he's not very clued in on BNP members' criminal records. Not that criminal records would bother Dozy Dowson.
Word has it that the anti-abortion campaigner and self-styled 'reverend' was behind a Scottish flute band that recorded a tribute to Ulster Freedom Fighters psycho and 'perfomance artist' Michael Stone.


FAIR man on rape charges
EX-DUP councillor William Wilkinson has been charged with the rape and attempted rape of a young woman in County Antrim last week.
Wilkinson (31), who appeared at a special sitting of Ballymena Magistrates' Court at the weekend and was remanded to appear via videolink on 15 September.
He left the DUP over its going into government with Sinn Féin and now works for Willie Frazer's exclusively unionist 'victims group', Families Acting for Innocent Relatives.
Frazer - who has worked alongside the accused in FAIR for six years - said about Wilkinson's arrest and charges:"He is obviously innocent until proven guilty".


Fallen Angel
I'M ANGLING for Matt Treacy's job this week, picking up two sports items, one of which I know he won't touch with a six-foot hurley because it's about soccer.
First off, I must break a lifelong tradition of solidarity with Fidel Castro by disagreeing with his backing of Cuban taekwondo athlete Angel Matos who kicked a judge in the face at the Beijing Olympics.
Matos - dubbed "taekwondo's original hard man" by one sports website - didn't take too kindly to being disqualified from his bronze medal bout for exceeding the one-minute break for treating injuries when he was 3-2 up. Now Olympic heads want to slap him (from a safe distance) with a lifetime ban.
Fidel defended his man, saying that he "couldn't contain himself" and expressing Cuba's "total solidarity" with him.
Maybe Fidel would like to take over managing the Dublin football team.


Wexford's sporting bravehearts
TURNING to a seriously brave display now. League of Ireland side Wexford Youths won through this week to face Derry City in the League Cup final in glorious colour - an all-pink kit.
The surprisingly tasteful togs were the brainchild of the one and only Mick Wallace, manager and all-round benefactor, who wants to bring a bit of colour into the sometimes dreary League of Ireland.
"We're trying to bring a bit of brightness to the league - sure we're a bit different anyway," Mick says.
"It's also an open challenge to the sad macho element in Irish society."
And the fans have taken to the away kit by singing this little ditty to the tune of Lily the Pink:

We're in the pink, the pink, the pink/our luminous pink, the pink, the pink,
We love the Youths/and Michael Wallace.
We are the envy/of the League of Ireland
The one and only/the Wexford Youths


Let's drink a drink a drink
To the Youths in pink, in pink, in pink
The players with/most style and grace
For they intend to/score goals aplenty
Most efficacious/in every game.

An Phoblacht Magazine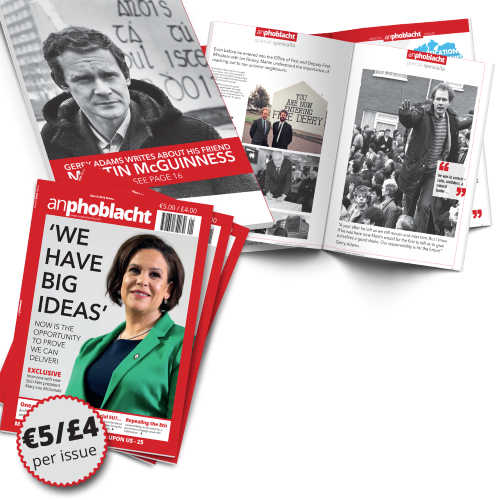 AN PHOBLACHT MAGAZINE:
The first edition of this new magazine will feature a 10 page special on the life and legacy of our leader Martin McGuinness to mark the first anniversary of his untimely passing.
It will include a personal reminiscence by Gerry Adams and contributions from the McGuinness family.
There will also be an exclusive interview with our new Uachtarán Mary Lou McDonald.
test