28 August 2008 Edition
Roche centre stage in choreography strategy for Lisbon re-run

When the media mask slips it is usually under pressure of events, as when people don't do what they are told by that interestingly titled band of 'opinion formers' whose job it is, apparently, to form people's opinion for them.
The media usually gets what it wants when it comes to conservative governments and referenda and it plays no small part in persuading and frightening the electorate as well as smearing 'dangerous' radicals like Sinn Féin and others.
Sometimes, denigration and intimidation does not work and a sophisticated Irish electorate, while usually concluding that there is no choice but to support the main establishment parties, rebels against lectures from their presumptuous betters. Occasional failure to follow the media diktat can result in serious wobblies by those like Irish Times editor, Geraldine Kennedy who lectured Opposition parties as well as the plebian population for failing to follow her lynch mob against Bertie Ahern two years ago.
The recent Lisbon referendum saw the media perform like a Greek Chorus championing the 'Yes' side and 'No' campaigners were characterised, basically, as subversive liars. In a startling show of defiance, voters rejected the advice of their leaders and voted to retain a degree of sovereignty. The anger of politicians was only exceeded by the anger of the media whose advice was scorned with such disturbing abandon.
Stephen Collins quickly recommended that the government ignore the electorate and ratify the Lisbon Treaty anyway. At least Collins was honest in his contempt for the democratic will of the people. Now, Dick Roche has been given centre stage in a choreographed strategy designed to soften us up for a second referendum because we voted the wrong way  first time out.
The Irish Independent or any objective newspaper could have accurately headlined this story as 'Roche flouts people's will on Lisbon', but instead chose the more positive headline, "Minister admits we need fresh Lisbon vote'. 'need'? 'fresh'? 'admits'? Words are like weapons and the choice of heavily loaded words reflects political bias.
The Independent devoted many such words to Roche's "daring" proposal and its editorial rejected the notion that it was undemocratic (the very idea!) while also dismissing Cardinal Sean Brady's warning about the Godless EU as a wider issue. The paper even pretended to buy the lie, peddled jointly by Roche and a government spokesperson, that the European Affairs Minister was only speaking for himself
The Irish Times followed next day with an article by recent EU model performer, Pat Cox, former President of the European Parliament and Lisbon Treaty 'Yes' campaigner but whose article was sub-headed, OPINION; so that's all right then. The article was headed with the clumsy but pointed headline, "Another Lisbon vote not a great option but it is a democratic one". Cox argued that the only alternative to Lisbon Mark II was to do nothing and tell 26 other EU states to get lost.
Alongside Cox's outpourings was another OPINION article from an expert on religion and EU Law who described Cardinal Brady's anti-religious characterisation of the EU as one of "alarming ignorance". The Irish Times editorial that day, without indicating the slightest hint of irony or sarcasm, congratulated Dick Roche for doing a public service to "the state and its voters". Decoded, this means that by telling people they got it wrong and would have to vote again to produce 'the right' result, Roche had done the stupid voters a good turn.
These columnists and editorial writers are the same responsible journalists who have constantly told the electorate that the NO side were pushing lies, distortions, exaggerations and irresponsible arguments to the electorate. So wrapped up are such 'experts' in their own Eurospeke and so removed from Irish people are they, that the gulf between them and us has become a chasm. Aware, at least, that there is some political danger in pushing a second Lisbon referendum on voters, they have worked out a position which says: 'You lucky people; we've decided to give you a second chance'.
Fine Gael were outraged recently because a recent RTÉ website poll posed the question of Brian Hayes's 'segregation' proposal for immigrant children as possibly racist and Blueshirt. The offending (but accurate) item about the Blueshirts was immediately wiped from the website under pressure from, er, the Blueshirts. But following this affront to the party that was created by General O'Duffy and his fascist followers, Fine Gael's Gay Mitchell compared the entire 'No' to Lisbon vote as similar to those who voted for Hitler in an RTÉ Radio One programme this week. Was there a night of the long knives in RTE over this insult? Was there F....
An Phoblacht Magazine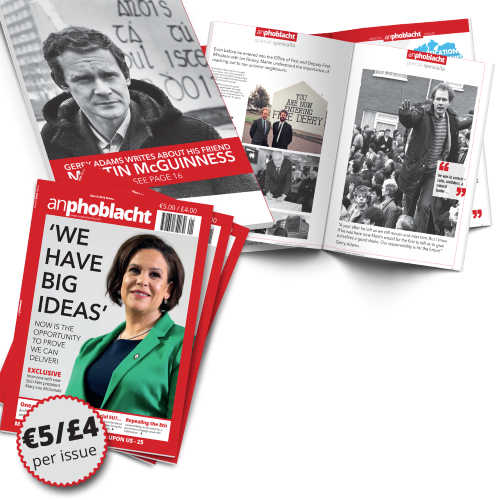 AN PHOBLACHT MAGAZINE:
The first edition of this new magazine will feature a 10 page special on the life and legacy of our leader Martin McGuinness to mark the first anniversary of his untimely passing.
It will include a personal reminiscence by Gerry Adams and contributions from the McGuinness family.
There will also be an exclusive interview with our new Uachtarán Mary Lou McDonald.
test