28 August 2008 Edition
Trade unions discuss new pay talks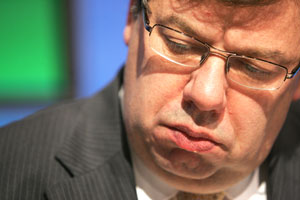 LEADERS of the Irish Congress of Trade Unions met with representatives from the Department of the Taoiseach over the weekend to discuss reconvening the pay talks that collapsed last month. Employers' representatives from IBEC (the Irish Business and Employers' Confederation) will also meet with officials from the department over this coming weekend.
Before the end of the original talks, the employers' body had offered a deal that included a six-month pay pause followed by a 2.5 per cent pay increase for six months and then another 2.5 per cent increase for the next nine months. However, the trade unions would not agree to any pay pause and sought yearly increases of 5 per cent to match the rate of inflation as well as flat-rate increases aimed to protect those working on the lower end of the pay scale.
Trade unions are also pushing for rights on collective bargaining and mandatory union recognition but employers have consistently indicated that they will not agree with any flat-rate increases for low-paid workers and argue that this would greatly affect competitiveness.
It is expected that Taoiseach Brian Cowen will play some role in meeting the social partners in September to try and restart the talks.
Despite the rapidly increasing cost-of-living in the 26 Counties, ICTU General Secretary David Begg said that the unions are open to settling for a pay deal that is below the rate of inflation as long as low-paid workers do not suffer as a result.  
John Douglas, head of the Mandate trade union, which represents retail workers, has stated that businesses can afford to pay higher wages and said that even small firms should be advocating wage increases across the board which would increase the average spending power of consumers and also support small firms and the overall economy.
Mandate is seeking a €30 per week pay increase across the board "to protect average families from the imminent threat of poverty" and stated that there is very little evidence to support the employers' claims that pay increases would result in the loss of jobs.