28 August 2008 Edition
Matt Treacy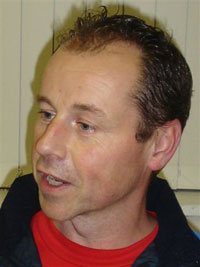 Hungry fighters and horsey cheats
I THINK it was Muhammad Ali's trainer, Angelo Dundee, who said that the best fighter is a hungry fighter. Indeed, American boxing in its classic era from the 1920s to the mid-1970s was replete with many exemplars of the hungry fighter. First, tough Irish and Italian city kids and then, when allowed to compete on equal terms, blacks.
It is perhaps not a metaphor easily transposed to Ireland in the early 21st century but if there are hungry fighters then the Irish boxing team contained lads from where you would expect to find them: two working-class Dubs, two Travellers, and Paddy Barnes from Ardoyne. And all from clubs: St Saviour's in Dublin's north inner city, Neilstown, the Holy Family Club off the New Lodge Road, Cavan, and St Michael's in Athy, whose young members are unlikely to be feted by the great and the good. Not unless they have the good grace to win a medal for 'Ireland', of course, in which case the great and the good will fight with grannies, sisters and the pet dog to have their photograph taken beside them and even, like some shameless bastards, more or less claim the credit for their success because they allegedly secured their club a grant of a few thousand euro to fix the roof that was letting water in on top of the boys sparring in the ring.
The way to stop being a 'knacker' - and the term is applied promiscuously by some to people from all of the above communities - is to win a medal. Might not still get you in the door of Lillie's nightclub over by Trinity College or the rugby club but they'll think better of you for a while. Then it's back to being a 'knacker'.


THREE of the Irish boxers won medals, of course, with Kenny Egan reaching the final only to be beaten by the boxer representing China. There was some controversy following that with many commentators claiming that the judges had awarded points to Zhang Xiaoping that were not genuine and had failed to award points to Egan.
The boxing scoring was an issue of controversy throughout the Games and the notion that a regime that tortures and imprisons people for posting on internet sites would not fix a boxing final is absurd. That's not to say they did but it would not be surprising. Egan himself was dignified in defeat, paying tribute to his opponent and refusing to dwell overmuch on the way the fight was scored.


IRONICALLY, the most 'knackerish' behaviour of note in the Irish sporting world last week came from the horsey cheats and their apologists and Garda Aidan O'Mahoney.
To be honest, I think show jumping and horse dancing is a waste of animals who could be lepping over fences in Punchestown so I don't really care what they do. And anything involving Avril Doyle can not be good.
O'Mahoney embarrassed himself and his jersey in taking a dive against Cork last Sunday. It was only the latest and most pathetic in a series of similar attempts to get opposing players sent off. All three of the remaining counties have done so successfully in this year's championship with the honourable exception of Wexford, whose naivety may well prove to be their downfall.
Looking at matches on television - and fewer and fewer it seems are prepared to go and see them live - does not give an accurate picture of exactly what goes on in senior football these days. Occasionally, the camera will pick out a player mouthing into an opponent's face or if an incident leads to a sending off then it will be replayed. Otherwise, very little of what is going on is seen by viewers at home.
If you are there it is sometimes worth taking your eye off the ball and watching what is happening at the other end of the pitch. Especially when certain players are playing whose speciality is an unceasing tormenting of their immediate opponent. It can be somewhat amusing for a while to watch a grown man constantly 'talk' to the player he is marking while alternately pinching him or standing on his ankles or sometimes fondling his bottom or even more intimate areas.
Then you realise that what he is doing is pretty despicable really and deserving of a smack in the mouth. Which, of course, is the whole point of the exercise: provoke your opponent into belting you and get him sent off; or, alternatively, put him off his game to the extent that he will play badly; or, perhaps if he makes any physical contact with you, fall down clutching your head as though you'd been shot and hope that the referee will send him off.


ANOTHER practice I have noticed of late is players or the Maor Uisce refusing to pass the water bottle to opponents. Indeed, I have to admit that it is one of the things that annoys me most. Even in the midst of ferocious junior club games there is a code of honour about such matters that is generally observed.
But the only code of honour clearly for many is to win at any cost.
There's an old baseball saying: "If you're not cheating, you're not trying."
Maybe that's the way to go. Still, it is hard to imagine Tim Kennelly doing a Bette Davis impression.
An Phoblacht Magazine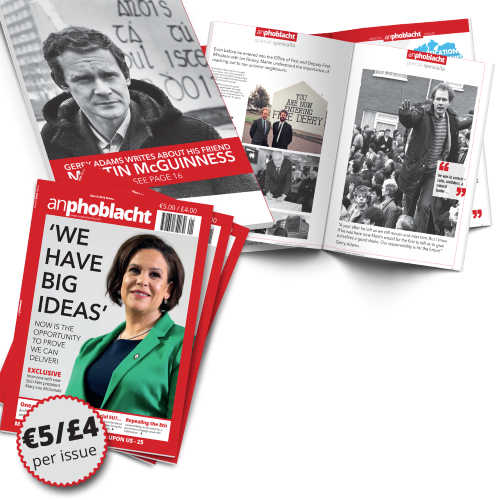 AN PHOBLACHT MAGAZINE:
The first edition of this new magazine will feature a 10 page special on the life and legacy of our leader Martin McGuinness to mark the first anniversary of his untimely passing.
It will include a personal reminiscence by Gerry Adams and contributions from the McGuinness family.
There will also be an exclusive interview with our new Uachtarán Mary Lou McDonald.
test