21 August 2008 Edition
John Joe McGirl remembered 20 years on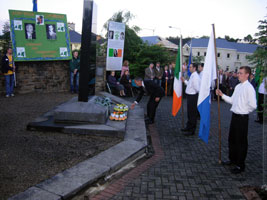 John Joe McGirl, former Vice President of Sinn Féin and a leading Irish republican over many decades was remembered at a 20th Anniversary Commemoration in his home town of Ballinamore, County Leitrim on Saturday, 16 August.
The commemoration was attended by republicans from Leitrim, rural border areas several other parts of Ireland and even the United States. Present also was the late John Joe McGirl's wife Bridie and their family, including John Joe's brother Michael. It was also attended by Leitrim County Councillors Martin Kenny and Michael Colreavy.
A parade, led by the Mountain Road Pipe Band, made its way from the square in Ballinamore to the John Joe McGirl monument where proceedings were chaired by Jim Smith.
The main address was delivered by Sinn Féin Councillor Charlie Boylan, Cathaoirleach of Cavan County Council.
Noting that John Joe had been a living link between republicans from the earliest years of the century and those of the present day, he recalled John Joe's many decades of service to the republican cause.
John Joe was imprisoned for his republican activities on several occasions North and South, beginning in the 1930s with a conviction for IRA membership and he suffered much for his commitment to Irish freedom.
He was active in the IRA during the 1940s and was interned in what Boylan called "The hell hole, known as 'Tintown' – the Curragh concentration camp."
He said that John Joe emerged from the horrors of the Curragh to become an inspirational figure to another generation of young people during IRA's Resistance Campaign of the 1950s and was jailed again in Mountjoy Prison for his efforts. In 1957, while still in jail, he was elected Sinn Féin TD for Sligo/Leitrim.
John Joe served as a Sinn Féin County Councillor in the 1960s, 1970s and '80s and served as chairperson of that body.
John Joe was a clear-sighted leader who recognised the malign nature of partition and British rule in Ireland and was determined to end it and to create a better, free and just Ireland.
Boylan pointed out that when conflict erupted in the North in the late 1960s John Joe was a leading figure in assisting the defence of the nationalist community there and in organising resistance to British rule.
In 1974, he was interned in Long Kesh where he was subjected to physical brutality. He was there during the burning of the Long Kesh camp and the subsequent onslaught against republican prisoners by the British army.
Boylan recorded too that John Joe McGirl had supported new initiatives by the republican leadership in the 1980s.
He said that during many years of struggle John Joe McGirl made was a household name not just  in Leitrim but throughout Ireland and abroad wherever republican-minded Irish people gathered.
The Cavan County Council Chairperson said that John Joe was a role model for Irish republicans today, that his example of sacrifice and public service was second to none and that he was never one of the "brown envelope brigade". He said that republicans today must follow the example of John Joe McGirl and that the only fitting monument for such a great man would be an independent, 32 County Irish republic.