21 August 2008 Edition
The Mitchel McLaughlin Column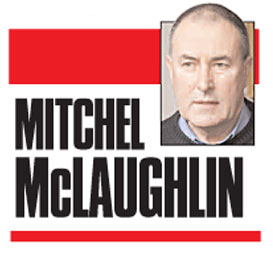 Mandatory coalition yes – Willing partnership definitely
DUP voices are forever criticising the Executive for the fact that it is a mandatory coalition. Many hanker after a return to the bad old days of majority rule – i.e. unionist one-party government. The DUP can certainly protest that it did not negotiate the Good Friday Agreement model of coalition but far from standing on principle, apart from refusing to attend Executive meetings in the first Assembly, they accepted all of the benefits and trappings of government. And following the last Assembly elections and the St. Andrew's Agreement – which was merely a review of the GFA – they accepted the principle of mandatory coalition and entered partnership government with Sinn Féin.
Some within the DUP while accepting the mantle of government want it to be on an a la carte basis – only wanting to embrace those aspects of government that reflect the needs of the unionist community. That is not what is required either under the original GFA or the review of that Agreement at St. Andrews. DUP spokespersons must stop living in denial and acknowledge that they are in government on the basis of an agreement freely negotiated between the parties – a partnership of equals designed to deliver for the benefit of all shades of political opinion.
It is not acceptable that, on the one hand, the DUP, in order to placate its critics within unionism, selectively point to agreements that they claim to have achieved at St. Andrew's and then when dealing with issues that are important to the nationalist constituency deny that they agreed to anything – that is dishonest and no one believes it.
This procrastination by the new DUP leadership is unacceptable and if partnership government is to survive a reassessment of their approach is required. The perception is that new DUP either is not capable of giving strong, decisive leadership or it is paralysed by fear of criticism from the likes of Jim Allister.
The catch-call of DUP spokespersons that they cannot deliver on certain issues because of lack of acceptance of them or confidence in their community is an abdication of their duty and responsibilities as elected representatives. It is the job of elected representatives to build confidence in their constituency by showing decisive leadership and taking tough decisions. If leaders display a lack of confidence it will be reflected in those they are supposed to lead and is only a matter of time before their electorate deserts them for another party that talks tough in opposition.
David Trimble proved that by displaying political paralyses for fear of the enemies of change, both inside his own party and outside, that it was only a matter of time before he and his party were replaced as leaders of unionism. It seems that 'new DUP' is beginning to show the symptoms of the Trimble syndrome of denying agreements without which, every impartial observer of the process knows that the DUP would not be in government.