14 August 2008 Edition
Remembering the Past: Twenty-two hunger strikers

BY MÍCHEÁL Mac DONNCHA

THIS WEEKEND, people gather in Derry to commemorate the Irish republican prisoners who died on hunger strike. Foremost in their minds will be the ten who died in the H-Blocks of Long Kesh between May and August 1981 but they will be paying tribute to all 22 republicans who followed to death the agonising path of the prison protest fast.
The use of hunger strike as a form of resistance in 20th century Ireland began with James Connolly and Hanna Sheehy Skeffington. They were imprisoned in Mountjoy Jail during the Great Lock-out of 1913 and were released within days of commencing their fast. In England, forced feeding was used against the Suffragettes, the campaigners for women's rights. The medical profession at that time was unsure how long a person could endure without food and forced feeding was used as a form of torture as well as to stave off what was thought would be early death from starvation.
It was after the 1916 Rising that the prisons really became battlegrounds in the struggle for Irish independence. There could be no pretence that the hundreds interned without trial after the Rising in Frongoch Internment Camp in Wales were not political prisoners but in other jails attempts were made to criminalise the Irish prisoners. In 1917, one of the senior surviving leaders of the Rising, Tomás Aghas, was arrested and held in Mountjoy. When the governor attempted to impose a strictly criminal regime Aghas embarked on a hunger strike and was forcibly fed. He died from the effects of forced feeding on 25 September 1917. Refusing a request from the Lord Mayor of Dublin to end his fast, Aghas said:
"No. They have branded me as a criminal. Even though I do die, I die in a good cause."
Tomás Aghas was the first of 22 republican prisoners to die on hunger strike in the 20th century. In most cases they were resisting criminal treatment.
In March 1920, Terence MacSwiney, Lord Mayor of Cork, had succeeded his predecessor Tomás Mac Curtáin who was murdered by the RIC. On 12 August that year MacSwiney was arrested and imprisoned in England. He undertook a hunger strike and died in Brixton Prison, London on 25 October 1920. Because of his elected office and the location of his fast in London where the world's press was based, MacSwiney's sacrifice drew unprecedented international attention to Ireland.
A young Ho Chi Minh, later leader of the Vietnamese revolution, wrote of how, as a young man working in London at the time, he was inspired by MacSwiney's courage. The streets of London and Cork were thronged for the funeral and the British hijacked the coffin, taking it directly to Cork to prevent an even larger turnout in Dublin which was on the intended route.

CIVIL WAR
Less well remembered are MacSwiney's comrades on hunger strike in Cork Prison  – Michael Fitzgerald of Fermoy, who died a week before him, and Joseph Murphy of Cork City, who died on the same day as MacSwiney.
Two more Cork men died on prison fasts but this time their jailers were their former comrades.
By the summer of 1923 there were 11,000 republicans interned by the Free State in the aftermath of the Civil War and they struck for release. Denis Barry of Blackrock and Andy Sullivan of Mallow died during the fast of republican prisoners in the autumn of 1923. Joseph Whitty of Wexford town was the third republican to die on that mass hunger strike.
The effects of hunger strike have often led to premature deaths after release. One such was Austin Stack of Kerry who fasted for 44 days in 1923 and died six years later. In our own era, Pat McGeown fasted for 42 days in 1981 and his health never recovered. He died in 1996.

De Valera was a republican prisoner during the 1923 hunger strike, although he did not join it. By 1940 he was holding hundreds of republicans in jails and internment camps. Seán McNeela of Ballycroy, County Mayo, and Tony Darcy of Headford, County Galway, were senior IRA men and were imprisoned in Mountjoy. When attempts were made to introduce criminalisation, the republican prisoners called a hunger strike. The prisoners resisted attempts to take McNeela away for trial and they were attacked by prison guards and gardaí. Darcy and McNeela were moved to St Bricin's Military Hospital, Arbour Hill, where they died on 16 and 19 April 1940.
Perhaps the most horrific fate of all the hunger strikers was suffered by Seán McCaughey of Aughnacloy, County Tyrone. Held in isolation in the high-security Portlaoise Prison, he embarked on a hunger and thirst strike in May 1946. The De Valera government could no longer use the excuse of the 'Emergency', which had ended the year before, for their treatment of this prisoner. At his inquest the prison doctor had to admit that he would not treat a dog the way McCaughey had been treated. He died on 11 May 1946 and received a republican funeral, being the first hunger striker laid to rest in Belfast's Milltown Cemetery.


ENGLAND
Like their fellow Mayo man, Seán McNeela, both Michael Gaughan and Frank Stagg were active service IRA Volunteers in England.
Hunger strikes had won demands for republican prisoners in Crumlin Road, Belfast, in 1972, with political status being recognised by the British Government in June of that year. The situation was very different for republican prisoners in England. They faced isolation and brutality and their main demand was for repatriation to Ireland.
Michael Gaughan undertook a protest fast and was forcibly fed with the participation of prison doctors. He died on 3 June 1974 in Brixton Prison after 68 days. The scandal of the force-feeding of Michael Gaughan and other Irish prisoners compelled the British Government to end the practice.
Michael's comrade, Frank Stagg, was to face even worse isolation. At one stage of his fast, his mattress was taken away and he had to lie on the spring base of his bed. Screws placed an empty coffin within sight across the landing from his cell. The Catholic Bishop of Leeds denied him the sacraments of the church. He died on 12 February 1976 and there followed the notorious hijacking of his body by the Fine Gael/Labour Government in order to prevent the same public display of support as that seen at Michael Gaughan's funeral. His body was buried under concrete by the Garda Special Branch in Leigue Cemetery, Ballina, County Mayo,but within days thousands of republicans came to pay their respects and months later the IRA reinterred Frank Stagg in the Republican Plot beside Michael Gaughan.

CRIMINALISATION
Less than a month after Stagg's death, the British Government officially began its criminalisation policy with the ending of political status for all prisoners convicted after 1 March 1976. As the Fine Gael/Labour Government buried Frank Stagg's body under concrete in Mayo, so the British Government tried to bury Irish republicanism in the concrete tomb of the H-Blocks and Armagh Prison. The result is well known. Four years of resistance culminated in two hunger strikes, the deaths of ten republicans and the transformation of the struggle for Irish freedom.
Bobby Sands was very conscious of the legacy of the hunger strikers who preceded him. In his Prison Diary on 6 March 1981 he wrote:
"I may be a sinner, but I stand – and if it be so will die – happy knowing that I do not have to answer for what these people have done to our ancient nation. Thomas Clarke is in my thoughts and MacSwiney, Stagg, Gaughan, Thomas Ashe, McCaughey.
"Dear God, we have so many that another one to those knaves means nothing, or so they say, for some day they'll pay... This road is well trod and he, whoever he was, who first passed this way, deserves the salute of the nation."
An Phoblacht Magazine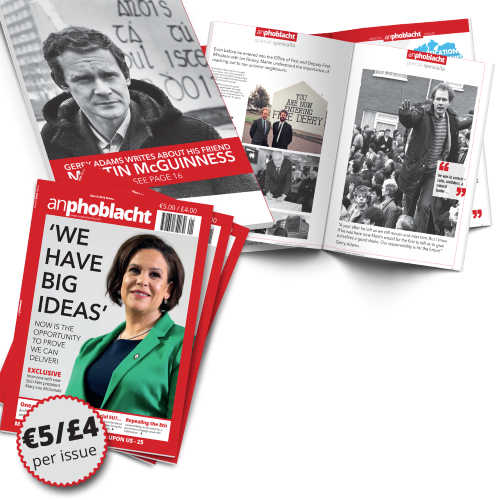 AN PHOBLACHT MAGAZINE:
The first edition of this new magazine will feature a 10 page special on the life and legacy of our leader Martin McGuinness to mark the first anniversary of his untimely passing.
It will include a personal reminiscence by Gerry Adams and contributions from the McGuinness family.
There will also be an exclusive interview with our new Uachtarán Mary Lou McDonald.
test