7 August 2008 Edition
Health Minister must act to tackle C-Difficile outbreak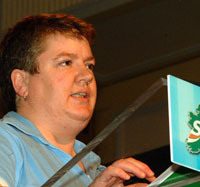 West Belfast MLA Sue Ramsey has challenged Health Minister Michael McGimpsey to act decisively in challenging the outbreak of the clostridium difficile (c-diff) virus within the Belfast Trust area. The spread of this hospital-based infection is causing concern throughout Ireland and attention this week focused on its prevalence in the North.
Ramsey said:
"While appreciating the fact that the Minister established a review to look at how the Trust areas were managed, this is a very stark indication that time is of the essence. People are dying.
"The Northern Trust has revealed that the C Diff bug contributed towards eight deaths in its hospitals during July. This remains a horrifying statistic for many of us who need to visit or check into our hospitals.
"I would call on the Minister to review the current approach to the c-diff outbreak across the North and put a greater degree of urgency into tackling this virus. The staff, patients and visitors of our hospitals deserve nothing less."
Meanwhile in the 26 Counties c-diff and the other main hospital-based infection, MRSA, are still major problems in overcrowded hospitals and many fear that current HSE cutbacks will make the situation worse.