7 August 2008 Edition
Framework laid but real progress must follow
Progress has been made this week in talks between Sinn Féin and the DUP on the transfer of policing and justice powers from the British government in London to the Executive and Assembly in Belfast.
The parties have agreed that policing and justice will come under a single department and that in the short term neither party would take up its right to have a member elected as minister.
This is a welcome development. The DUP has moved from an entrenched position that was threatening to bring the work of the Executive and the Assembly to a halt. It demonstrates also the continued willingness of Sinn Féin to 'go the extra mile' and to take political risks.
No-one should underestimate the concern felt by republicans over the protracted delay in the transfer of policing powers. It should have happened in May of this year. This was the agreed timetable. It was the timeframe in prospect when Sinn Féin agreed to change its policy on policing in the Six Counties after intense and very difficult internal debate.
Of course the timing is less important than getting policing and justice right and finally ending the legacy of militarised policing and politicised courts in the Six Counties. Every section of the community deserves a new beginning in policing and justice. Every local community deserves safety and real security. All forms of crime and anti-social behaviour need to be tackled both by prevention and prosecution.
That goal requires the continuing transformation of policing and justice and it cannot be achieved without the transfer of powers. It cannot be repeatedly postponed. Nor can the patience of republicans be taken for granted.


What alternative to 'partnership'?
Talks between employers, unions, Government and the other 'social partners' may or may not be resurrected after apparently irreconcilable breakdown last weekend. Whatever happens, the unions need to regroup and assess carefully how to protect their members in this era of economic slump and Government spending cuts. This requires unity of action in support of decent pay and public services, especially health, education and housing. The unions are in a position, if they choose to do so, to galvanise organised workers and local communities in campaigns for a fairer economy and society. The negotiating table is one front in that campaign. More important still is organising and educating and mobilising and, talks or no talks, that work needs to be done.
An Phoblacht Magazine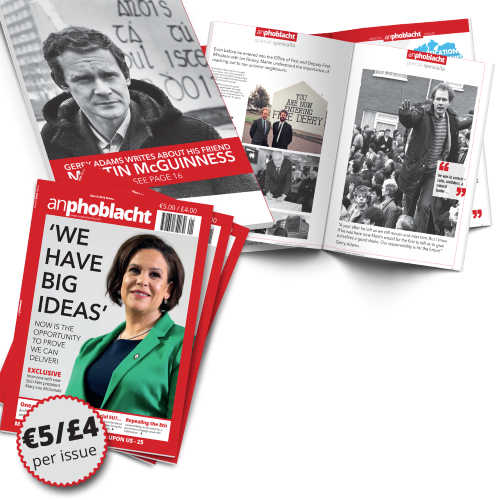 AN PHOBLACHT MAGAZINE:
The first edition of this new magazine will feature a 10 page special on the life and legacy of our leader Martin McGuinness to mark the first anniversary of his untimely passing.
It will include a personal reminiscence by Gerry Adams and contributions from the McGuinness family.
There will also be an exclusive interview with our new Uachtarán Mary Lou McDonald.
test