31 July 2008 Edition
Ferris welcomes collapse of WTO talks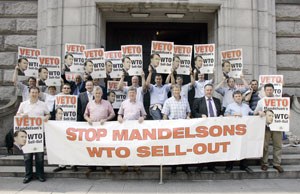 THE collapse this week of the proposed WTO deal which would have seen the decline of Irish Agriculture has been welcomed by Sinn Féin Agriculture Spokesperson Martin Ferris TD.
Nine days of virtually non-stop talks involving dozens of trade ministers and hundreds of trade experts from more than 30 countries broke down over the refusal of China and India to open up agriculture markets to US imports as much as Washington wanted.
Martin Ferris said the Irish Government must ensure, in any future talks, that agriculture is not made the sacrificial lamb in order to secure a deal.
"The proposed WTO deal would have had a severely detrimental impact on Irish farming and for that reason I welcome its collapse", Ferris said
"It is now up to the Government to ensure that, in any future talks for another deal, Irish Agriculture is safeguarded.
"Food security, consumer safety and the livelihoods of those involved in all aspects of farming and the food industry demand that the European model of farming is not effectively dismantled in order to allow access by European businesses to third country markets."