31 July 2008 Edition
Sectarian attack on Dublin youth footballers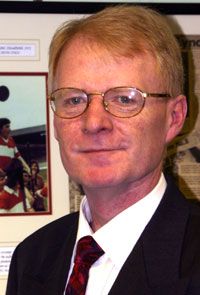 A GROUP of young Dublin soccer players were subjected to a sectarian attack in Coleraine, County Derry this week. A sectarian mob fired stones and bottles and chanted 'Fenian bastards' at the players.
The attack and its fallout have led to demands for the resignation of a public relations officer for the Milk Cup after he described the attack on the two Dublin youth teams as "drink fuelled".
The resignation call was made by Sinn Féin's East Derry PRO Councillor Paddy Butcher after the youths were attacked at their accommodation base near the loyalist Ballyfally estate. The Crumlin United and Cherry Orchard Under-16 and Under-14 teams were staying at Cromore Court by the University campus when stones were thrown at their accommodation and sectarian abuse was shouted at the children.
Speaking on Tuesday, Councillor Paddy Butcher said:
"We resent the statement by Mr Stanford that the attack on these children was "drink fuelled." This adds insult to injury. Let there be no mistake, this attack was hate fuelled and motivated by raw sectarian bigotry. Our three East Derry Sinn Féin Advice Centres in Kilrea, Dungiven and Limavady have been inundated with protest calls all day. Many people were demanding that Limavady Borough Council withdraw future financial support and sponsorship of the event".
He went on:
"We are in no doubt whatsoever that this was a well planned sectarian attack operated from the nearby the loyalist Ballysally estate. For Mr Stanford to dismiss it as a "drink fuelled" act of anti social behaviour is a disgrace. He should resign without delay to salvage some remnant of respectability of this event.
"In media coverage Jim Sandford, spokesman for the Milk Cup, said a drunken mob gathered outside to throw stones at the windows and intimidate the children playing for the clubs. He went on to say that this was unprecedented in over 25 years. I was born in Coleraine and let me be the first to inform Mr Sandford that anti-Catholic sectarianism has been the norm not the exception in that town for much longer than the last 25 years."
TERRIFIED
"One of my party colleagues from Newry who is a coach for one of the participating teams told me that a member of the Crumlin United staff had reported to him that sectarian remarks were shouted, bottles, cans of beer, and bricks at the children. The kids some of whom were under 14 were terrified. This event attracts teams and media coverage from all over the world. This sectarian attack has disgraced Coleraine in the world's media, and Coleraine has disgraced all of Ireland in the world's media."
Meanwhile Sport against Racism Ireland (SARI) have also condemned the attack. In a statement on Tuesday the organisation said:
"It has come to our attention that members of two Dublin youth football clubs, Cherry Orchard and Crumlin United were subjected to sectarian abuse at their accommodation base for the Coleraine Milk Cup in Northern Ireland.
"Sport against Racism Ireland (SARI) in condemning the attack, states that, the Milk Cup, since its foundation in 1983 has grown to be one of the most prestigious youth sport tournaments in the world and has provided a safe and secure location for young people from these islands to compete in a harmonious atmosphere with youth from all Continents, regardless of ethnicity, culture, colour and religion.
"Sectarianism flies in the face of the philosophy of the founding group which included the great football son of Coleraine, the Glasgow Celtic and Northern Ireland international, Bertie Peacock who believed that football would win against bigotry and hatred.
Sport against Racism Ireland will continue to work with our partners in the Football for All campaign of Irish Football Association to eliminate the scourge of sectarianism in our society."