24 July 2008 Edition
Wicklow victory in battle against poisonous waste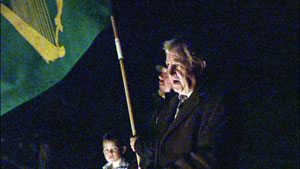 RESIDENTS of West Wicklow this week breathed a huge sigh of relief and claimed a massive victory after South Dublin County Council reversed its decision to dispose of highly poisonous hydrogen cyanide at Kilbride Army camp in the Wicklow Mountains.
Following weeks of protests by local residents, supported by Sinn Féin elected representatives and activists from across County Wicklow and South Dublin, South Dublin County Council and the Department of the Environment were forced to abandon their plans.
Local Sinn Féin representative Gerry O'Neill described the outcome of the campaign as "unbelievable" and "terrific news for this community."
"This was truly a David and Goliath struggle here in West Wicklow," O'Neill said.
"We had a small and relatively powerless local community, who without consultation were going to be forced to have this highly poisonous substance exploded over the West Wicklow countryside and close to water sources that supply water for both Dublin and Wicklow.  They faced down the might and arrogance of not only South Dublin County Council but also the Department of the Environment, who sanctioned the process, and forced them to reverse their decision.  It's unbelievable, terrific news for the community and shows what can be achieved when communities come together."
Wicklow Sinn Féin councillor, John Brady, who first raised the issue on RTÉ news also welcomed the decision:
"I am delighted for the people of West Wicklow. Their single-minded determination has won out in the end and they are to be commended for that."
However, Councillor Brady was highly critical of South Dublin County Council and the Department of the Environment, headed by Green Party Minister John Gormley.
SECRECY
"From the very start Sinn Féin expressed serious reservations about the secrecy behind the plan and method being proposed to get rid of this toxic material.  When we first exposed the plan the local community had not been consulted on this issue –  nor indeed were elected representatives in either South Dublin or Wicklow Councils.  
"We repeatedly called for alternative methods of disposal to be looked at but were told that this was the only way to do it.  We were accused of scare-mongering yet the fact that exclusion zones and field hospitals were being put in place speaks for itself. We were accused of telling lies – yet everything we stated turned out to be fact.
"The whole debacle should never have happened. The people of Manor Kilbride and surrounding areas close to the proposed disposal site should not have been put through the worry and anxiety that they were put through over the last number of weeks.  South Dublin County Council should be ashamed of themselves."
"But," he said "they weren't alone. What is all the more remarkable about this whole affair is that it was done with the connivance of the Department of the Environment - which is run by a Green Party Minister, John Gormley.  
Before entering Government with Fianna Fáil the idea of exploding hydrogen cyanide over the Garden of Ireland would have been unthinkable to John Gormley and the Green Party in Wicklow – yet that is what they were prepared to do.  It's shameful."