24 July 2008 Edition
Fifth Column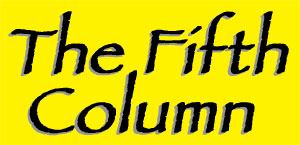 Orange standard call to UDA/UVF
ORANGEMEN in Armagh have said they are upset at the display of UVF and UDA flags on lamp-posts during The Twelfth.
"We were perturbed this year to see loyalist paramilitary flags in the Gaol Square and Barrack Street area of the city," an official statement said.
"We do not want any paramilitary flags in Armagh in the future – they have no part in our celebrations and can lead to an increase in tension."
Hear, hear!
Maybe the Armagh brethren could prevail on the Big Oranges at HQ to follow their lead and act to remove banners like those on the Dunmurry Orange walk which showed support for the UDA and the UVF's youth wing, the Young Citizens' Volunteers.


Craven apology
'NOR'N IRON' soccer international David Healy MBE (Member of the British Empire) has apologised for mimicking an Orange bandsman playing a flute during a friendly match with Celtic at the weekend.
The Fulham player's 'friendly' game took place at his English Premier League club side's London stadium, Craven Cottage.
"I am supposed to be a role model and I can only apologise," a seemingly contrite Healy said on Tuesday.
"It was one of those incidents that someone said something and I made a silly gesture which I regret.
"I can guarantee from my point of view it will never happen again."
Healy follows in the footsteps of former England star Paul Gascoigne. Gazza caused uproar over a similar flute-playing gesture when he played for Rangers in a controversial 1998 Old Firm game.
Fulham and the Six-County soccer authorities are to look into Healy's auld Orange flute.


Shaggy dogs of war story
NEW tricks by the beleaguered British forces in Afghanistan were leaked this week when it was revealed that the generals in Whitehall want to parachute dogs into Taliban strongholds with the aim of sniffing out the enemy for the SAS to pick off.
The barking mad idea proposes to use Alsatian dogs (I suppose Afghan hounds might have the right pedigree but not the bite) to flush out Johnny Foreigner and shoot him up the Khyber Pass.
Next week: the CIA plans to fly pigeons into Venezuela to stage a coo attempt. (That's enough animal crackers – Editor.)


Take note
STEPHEN NOLAN is getting all aeriated this week over Northern bank notes. Shops in England won't take them he told listeners of his BBC Radio Five Live show on 'the mainland'.
Even the WH Smith newsagent's outlet in the BBC itself (the British Broadcasting Corporation, remember) won't take any Northern bank notes over £20. Scottish bank notes are treated with similar disdain by English shopkeepers.
An irate Stephen thunders on Tuesday: "Is 'Northern Ireland' part of the United Kingdom or not?"
In English eyes, don't bank on it.


Guess Who, Batman
LILY ALLEN'S jaunty new track, Guess Who, Batman (GWB), originally 'inspired' by the British National Party, has been receiving rave reviews on the internet.
It's expected to feature on Lily's second album being recorded in Los Angeles. She says: "It was originally written about the BNP but then I felt this issue has become relevant pretty much everywhere." (Think about the title with its initials, pop pickers.)
Lily sings:–
Look inside, look inside your tiny mind and look a bit harder/Cos we're so uninspired, so sick and tired/Of all the hatred you harbour.
So you say, it's not okay to be gay/Well I think you're just evil/You're just some racist who can't tie my laces/Your point of view is medieval."
And it has a catchy chorus with a liberal use of the 'F-word' for the BNP:
F**k you, fu**k you very, very much/Cos we hate what you do/And we hate your whole crew/So please don't stay in touch...
Sing along with Lily at http://www. youtube.com/ watch?v=O0J6 VtwGd8s but make sure your granny or Dick Cheney is out of the room when you turn it on (unless your granny's a 90-year-old Nazi or Mrs George W Bush).

An Phoblacht Magazine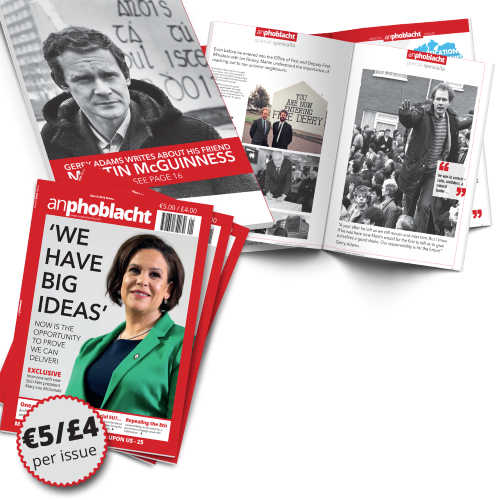 AN PHOBLACHT MAGAZINE:
The first edition of this new magazine will feature a 10 page special on the life and legacy of our leader Martin McGuinness to mark the first anniversary of his untimely passing.
It will include a personal reminiscence by Gerry Adams and contributions from the McGuinness family.
There will also be an exclusive interview with our new Uachtarán Mary Lou McDonald.
test