17 July 2008 Edition
Mayo fishermen in flotilla protest against Shell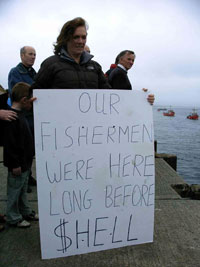 THE protest over the controversial Corrib gas pipeline moved to sea this week as north Mayo fishermen in a flotilla of over 30 boats, and up to 100 fishermen, pulled into Broadhaven Bay on Monday. The fishermen were applauded by a large crowd of supporters who had gathered on the quayside.
Organised by the Erris Inshore Fishermen's Association (EIFA), the protest was held ahead of the arrival of the world's largest sub-sea pipe-laying boat, the Solitaire, currently anchored off Killybegs. The ship is being used to lay a pipe from the site at Gelngar, 83km out to the Corrib gasfield.
The protest highlighted the continuing impasse between Shell and the fishermen's organisation over the location of the refinery's ouflow pipe in rich fishing grounds. The fishermen say that Shell has being ignoring their concerns for the past eight years now.
Local Sinn Féin representative Rose Conway Walsh expressed support for the local fishermen and said that it was "essential that their concerns are met as a matter of urgency"
"The way of life of many people in this area depends on the sustainability of the local fishing industry into the future", she said.